MAGIX Movie Edit Pro 2014 Offers Improved Multi-track Performance, New Content and Effects
MAGIX AG has announced the release of
MAGIX Movie Edit Pro 2014.
Also available in Plus and Premium versions, the new Movie Edit Pro 2014 build comes with the promise of improved multi-track performance through more efficient use of multi-core PCs. This latest build also comes with lots of new content, with all versions now HD and 16:9 compatible. Movie Edit Pro 2014 also gets HDR effects for the first time, while Plus and Premium users gain a new proxy editing feature.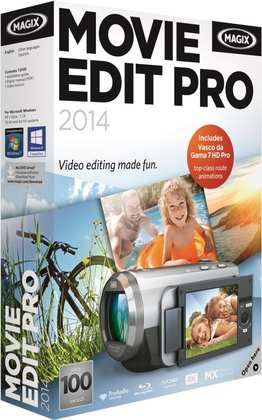 MAGIX Movie Edit Pro 2014 makes it easier than ever before to get started with video editing.
Using the storyboard mode and automatic optimization for image and sound, you can create incredible movies in no time at all, even if you're a complete beginner.
Switch to the timeline mode and edit your videos like a pro.
Main Features
Unique performance for editing and exporting
Get started right away: Optional beginner mode
Touch elements make the program easier and more intuitive to use than ever before
Automatic wizards for video editing, audio dubbing, and image optimization
Precise video editing on up to 32 tracks
Full 4K and HD support for AVCHD/HDV camcorders and action cameras
Over 1000 templates for effects and interactive menus
Import clips and video projects from MAGIX Movie Edit Touch
Export to DVD, Blu-ray Disc, YouTube, Facebook, Vimeo, and as files
MAGIX Movie Edit Pro 2014 Plus offers unique features, cutting-edge technology, and intuitive tools for editing videos to the smallest detail. Make your own ideas come to life in your video projects. Accurate video editing on as many as 99 tracks and full 4K support allow you to enjoy revolutionary work in the highest quality as you've never experienced before.
Additional Features
Precise video editing on up to 99 tracks
Full Stereo3D support
Intel Wireless Display support (WiDi)
Proxy editing for smooth 4K and HD editing
Secondary colour correction
Multicam editing (for two cameras)
Advanced audio dubbing in 5.1 Surround Sound
Professional movie templates
High Dynamic Range effects (HDR)
Impressive travel route animations
Over 1500 unique effects and templates
Custom menu design
MAGIX Movie Edit Pro 2014 Premium includes all of the amazing advantages of the Plus version as well as a unique package of exclusive add-on programs of proDAD Heroglyph V4 Pro and NewBlue ColorFast worth € 450. NewBlue ColorFast combines professional colour correction with detailed colour grading in a single workflow. You can precisely control colour adjustments and apply them to individual image areas or the entire video picture. Use proDAD Heroglyph V4 Pro and create impressive title animations with templates for a wide variety of themes.
For more information, please see:
http://www.magix.com/int/movie-edit-pro/
Price & Availability
MAGIX Movie Edit Pro 2014 is available now for MSRP £59.99, Movie Edit Pro 2014 Plus £79.99 and Movie Edit Pro 2014 Premium for MSRP £99.99 inc VAT from Amazon