MAGIX Photostory easy
Slideshow creation has never been easier
MAGIX AG has announced the release of MAGIX Photostory easy.
With the release of Photostory easy, MAGIX is offering a brand new program that will make it even easier to transform photos into amazing movies including music and effects. The integrated Slideshow Maker makes the process simple by automatically combining the photos with transitions, music and dynamic camera movements. Users can also make use of the clearly designed interface to create their own customized slideshows and the one-click photo optimization feature, including red-eye removal, makes it possible to include photos in the slideshow that normally wouldn't make the cut. MAGIX Photostory easy is now available online and in stores (Amazon) for £39.99 inc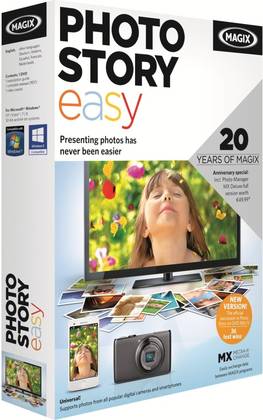 An amazing slideshow in just a few minutes!
The popularity of modern devices such as smartphones and tablets, and the intuitive characteristics of most apps show just how important the term "user-friendly" has become. MAGIX Photostory easy has been designed like an app, which means that users can get the hang of it and produce impressive slideshows in a matter of minutes.
It only takes a click to import files from a smartphone or digital camera and MAGIX Photostory easy automatically recognizes the format. Once the photos are imported they can quickly and easily be transformed into a slideshow automatically with the Slideshow Maker feature.
For a more personal touch, users can also create their own customized slideshows using the various editing features that are accessible through large buttons and clearly marked icons. Transitions, color corrections and background music can all be added in just a few minutes and in no time at all the photos are transformed into an amazing
slideshow
.
When the slideshow is finished it can be exported with an animated menu to DVD or Blu-ray, mobile devices such as the iPhone, iPad or Android smartphones and tablet PCs. Users can also share their slideshows on social networks by exporting directly from the program to sites like Facebook and YouTube.