Silent horror classic Nosferatu: A Symphony of Horror comes to DVD and Blu-ray this October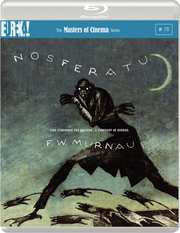 It's becoming a bit of a dark week here isn't it, as the winter nights begin to slowly draw closer, for the third day in a row we have a title with a dark edge to it. And another from
Eureka! Entertainment
in their
Masters of Cinema
collection.
So if you don't fancy modern halloween offerings, then perhaps the silent 1922 classic
Nosferatu: A Symphony of Horror
is screaming out for a purchase on 25th October.
Directed by F. W. Murnau, this stars Max Schreck and comes with a newly remastered and restored transfer, in 1.37:1 1080p for the Blu-ray version, plus the obligatory 56-page booklet with writings and rare imagery.
Extras include two audio commentaries with film historians David Kalat and R. Dixon Smith with critic Brad Stevens
, The Language of Shadows
documentary on Murnau's early years and the filming of
Nosferatu
, new video interview with author Kevin Jackson, newly translated English subtitles with original German intertitles, and more.
The recommended retail prices for the three versions are £19.99 for the DVD and Blu-ray editions, with the Steelbook that contains both these retailing for £29.99.
Synopsis and trailer follow...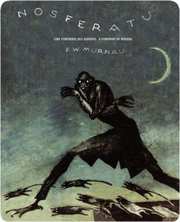 An iconic film of the German expressionist cinema, and one of the most famous of all silent movies, F. W. Murnau's Nosferatu: A Symphony of Horror continues to haunt, and indeed terrify, modern audiences with the unshakable power of its images.
By teasing a host of occult atmospherics out of dilapidated set-pieces and innocuous real-world locations alike, Murnau captured on celluloid the deeply-rooted elements of a waking nightmare, and launched the signature Murnau-style that would change cinema history forever.
In this first-ever screen adaptation of Bram Stoker's Dracula, a simple real-estate transaction leads an intrepid businessman deep into the superstitious heart of Transylvania. There he encounters the otherworldly Count Orlok, portrayed by the legendary Max Schreck, in a performance the very backstory of which has spawned its own mythology, who soon after embarks upon a cross-continental voyage to take up residence in a distant new land and establish his ambiguous dominion.
As to whether the count's campaign against the plague-wracked populace erupts from satanic decree, erotic compulsion, or the simple impulse of survival, that remains, perhaps, the greatest mystery of all in this film that's like a blackout.