Guitry's classic French black comedy La Poison comes to DVD and Blu-ray in February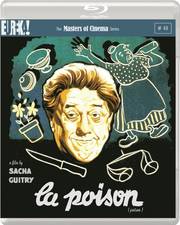 What better news to leave you with this weekend than of a classic French black comedy you can buy on Monday? For on this day
Eureka Entertainment
are releasing another in their Masters of Cinema line, the Sacha Guitry directed
La Poison
.
Starring Michel Simon and Germaine Reuver, this arrives in it's original black and white with full frame aspect ratio. In French with newly translated optional English subtitles and an included booklet, the recommended retail price will be £18.37 for the DVD and £20.42 for brand new HD 1080p restored Blu-ray.
This is one of the great late period films by Guitry, the total auteur who both delighted and scandalised the French public and inspired the French New Wave as a model for authorship as director-writer-star of screen and stage alike. In every one of his pictures and almost every one served as a rueful examination of the war between the sexes, Guitry sculpted by way of a rapier wit, some of the most sophisticated black comedies ever conceived.
Synopsis, marketing blurb and clip follow...
Paul Braconnier is a man with designs on murdering his wife Blandine, a woman with similar designs on her husband. When Braconnier visits Paris to consult with a lawyer about the perfect way of killing a spouse, that is, the way in which he can get away with it, an acid comedy unfolds that reaches its peak in a courtroom scene for the ages.
From the moment of Guitry's trademark introduction of his principals in the opening credits, and on through the brilliant performance by national treasure Michel Simon, here is fitting indication of why Guitry is considered by many the Gallic equal of Ernst Lubitsch. The Masters of Cinema Series is proud to introduce Sacha Guitry into the catalogue with La Poison for the first time on video in the UK in a dazzling new Gaumont restoration.