Call the Midwife: Series 2 hits DVD this 1st April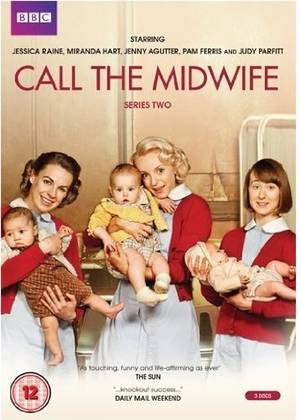 We did mention this briefly before, but it appears to have had a date change since then, so legs akimbo, out it comes again! Yes,
BBC Worldwide
are releasing
Call the Midwife: Series 2
on DVD this 1st April.
Starring Jessica Raine, Jenny Agutter, Pam Ferris, Miranda Hart and Judy Parfitt, the recommended retail price for this period drama will be £20.42, whilst extras will include behind-the-scenes interviews with the cast.
Note that there will also be a box set containing both the first and second series, plus the Christmas special out around the same time, so if you are looking at picking up the first one before, you might want to wait.
Synopsis and trailer follow...
It's 1958 and the hard-working midwives of Nonnatus House continue to serve the crowded tenements and slums of Poplar. As they struggle with the challenges of poverty, domestic abuse and the spectre of TB, the midwives also face crises of their own.
A chance encounter reunites Jenny with Jimmy; Chummy and P.C. Noakes face a dilemma over their imminent future; a tragic birth puts Cynthia in the spotlight and Trixie enjoys an all too tantalising taste of celebrity lifestyle.
Back at Nonnatus House, Sister Julienne struggles to keep the beleaguered convent on an even keel as dementia stricken Sister Monica Joan finds comfort in the friendship of new orderly Jane; Sister Bernadette experience a spiritual crisis and Sister Evangelina puts her foot down regarding pain relief.