The Smurfs: Tis the Season to be Smurfy is out on DVD for Christmas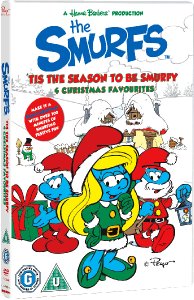 To coincide with the DVD &
Blu-ray release of the summer blockbuster 'The Smurfs - The Movie'
Arrow Films & Fabulous Films proudly presents
The Smurfs
Tis The Season To Be Smurfy
4 Christmas Favourites
Available now to own on DVD!
Make it a Blue Christmas with over 100 minutes of
Smurfing festive fun
Four Classic Festive Episodes
from this much loved long running Hanna Barbara
1980's animated series
Other Smurf DVD releases now available!
SYNOPSIS
Far, far away, in a little mushroom village, live a group of little blue pixies in short trousers and white bonnets called The Smurfs. Only as tall as three apples, they speak in 'Smurf', a language that only they understand. The Smurfs are carefree, peaceful creatures that live in harmony with nature. But they have a nasty habit of wanting to act like man, which causes them 1,001 problems.
DVD CONTENT
Smurf's Christmas Special
Tis The Season To Be Smurfy
Baby's First Christmas
The Magic Sack Of Mr Nicholas
Episode Synopsis
Motion Menus
DVD SPECIFICATIONS
Running time: 100mins
Barcode: 5030697020505
Catalogue No: FHED2905
Certificate: U
Discs: 1
RRP Price: £5.99
The Smurfs, Tis The Season To Be Smurfy
is distributed by Arrow Films & Fabulous Films and is available now from all good DVD stockists.