Live action family flick The Smurfs comes to DVD and Blu-ray this December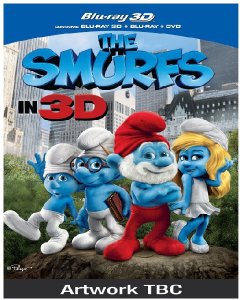 THE SMURFS
™
Starring Neil Patrick Harris, Hank Azaria, Sofia Vergara, Jayma Mays and the Voices of Katy Perry, George Lopez, Jonathan Winters and more!
On Blu-ray 3D™, Blu-ray™, DVD and Digital on December 5
Blu-ray™ Versions Includes
Smurf™-O-Vision: Second Screen Experience!
London, UK. 10/10/11
- Sony Pictures Home Entertainment will have families everywhere singing a happy song on
December 5
when Sony Pictures Animation's live-action animated feature,
The Smurfs ™
, becomes available on Blu-ray 3D™, Blu-ray™ Double Play, DVD and digital.
When the evil wizard Gargamel chases the tiny blue Smurfs™ out of their village, they tumble from their magical world into ours - in fact, right in the middle of Central Park. Just three apples high and stuck in the Big Apple, the Smurfs™ must find a way to get back to their village before Gargamel tracks them down. Directed by Raja Gosnell (
Scooby Doo
) and starring Neil Patrick Harris ("How I Met Your Mother"), Jayma Mays ("Glee"), Sofia Vergara ("Modern Family"), and Hank Azaria (
Hop
) as Gargamel, the film features the smurf™-ect voices of singing sensation Katy Perry as Smurfette, George Lopez (
Rio
) as Grouchy and Jonathan Winters (
The Flintstones
) as the original Papa Smurf.
The Smurfs™
will be available for RRP £29.99 (Blu-ray 3D), RRP £24.99 (Blu-ray) and RRP £19.99 (DVD).
The Smurfs™: A Christmas Carol
DVD is an all-new mini-movie, exclusively available at Tesco stores and starring the Smurfs™. Based on the timeless Christmas classic,
The Smurfs™: A Christmas Carol
is available for a limited time only.
Blu-ray special features include a one-of-a-kind
Smurf™-O-Vision: Second Screen Experience.
Experience the Smurfs™ taking over your television and iPad, iPhone or iPod Touch! While you watch the movie, Smurfs™ will appear on-screen to sing, dance and do all kinds of Smurf™-tastic things! The adventure also extends to your second screen device where you will be able to interact and engage with the Smurfs™, Gargamel and Azrael - popping bubbles, dropping smurfberries, zapping Gargamel, and much more!
DVD Special Features:
Find the Smurfs™ Game
Deleted & Extended Scenes
The Smurfs: Comic Book to the Big Screen
Featurette: "Going Gargamel"
Progression Reels
Blu-ray 3D & Blu-ray Special Features:
All content featured on the DVD listed above, plus:
Smurf-O-Vision: Second Screen Experience: Interact with the Smurfs as they take over your TV & iPad®, iPhone® or iPod touch® while you watch the movie!
The Smurfs™ Fantastic Adventure Game - Help Clumsy race through the village and Central Park to stop Gargamel and his evil plans!
Blue-pers
Happy Music Montage
2 Commentaries
2 Featurettes:
"The Smurfs™: Comic Book to the Big Screen"
"Smurf™ Speak: Meet the Cast"
The Smurfs™
has a run time of 103 mins (BD), 98 mins (DVD) and has been rated U.