Shark horror The Reef arrives on DVD in January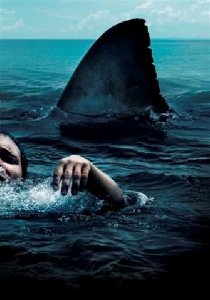 THE REEF
AVAILABLE ON DVD
24 JANUARY 2011
From the director that brought you the deeply scary
Black Water
and the studio that chilled you to your core with the masterful horror
Frozen
comes the most terrifying shark thriller since
Jaws
PRAY THAT YOU DROWN FIRST
When the trip of a lifetime takes a devastating turn, four friends are faced with a life or death decision: should they stay put and pray for rescue or should they take their life into their own hands and make a desperate break for safety? The only thing that's certain in
THE REEF
is that there'll be blood in the water
For four old friends a week sailing on the Great Barrier Reef should have been a dream come true. But when the vessel capsizes, plunging its human cargo into the depths of the treacherous ocean, that dream turns into a nightmare. What should they do? Stay with the damaged boat that could sink at any moment? Or take their chances and swim for land they hope lies 10 miles away? Seasoned fisherman Warren, fearful of what lies beneath, decides to stay with the wreck, whilst the others take to the open water. They only to learn too late that they are being stalked by a deadly great white shark, just waiting for one member of the desperate team to fall behind.
Damien Walshe-Howling
leads an accomplished Australian cast in this home-grown horror of epic proportion and
Zoe Naylor
delivers an unforgettable performance in her supporting role. Young actors
Adrienne Pickering
and
Gyton Grantley
portray genuine unadulterated fear alongside the impressive
Kieran Darcy-Smith
as their guide to the ocean.
Taking the audience on a thrilling passage into wilderness survival horror,
Andrew Traucki
's true-life shocker - uniquely shot with real 14-foot Great White sharks - puts ordinary people in an all-too believable extreme situation. As the suspense builds to its absolute breaking point we know we are in the hands of a master of the genre.
Beware of the water
- there will be no escape from the 14-foot vicious hunters of
THE REEF.
Premiering at Film4 FrightFest All-Nighter this Halloween
RELEASE DATE: 24 January
2011 CERTIFICATE: TBC