STM Bags offers new colours in best selling Neoprene Laptop Sleeves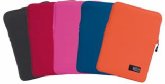 Laptop sleeves allow consumers to protect their laptop in new fashion colours
Leading Australian bag manufacturer, STM Bags has announced today the delivery of five bright new colours (black, burgundy, magenta, teal and orange) of their
glove
neoprene laptop sleeve. The new stylish colours compliment an already essential product for anyone who carries a MacBook, MacBook Pro, Netbook or the new iPad. The gloves are available in three sizes: small (13" screens), medium (15" screens) and large (17" screens)
"The glove is like a wetsuit for your laptop, without the sharks." said Ethan Nyholm, STM's founder and president. "The new colours also allow our customers to express a bit of personality in a world of black bags."
STM's
glove
protects your notebook from bumps dust and scratches and literally fits like a glove. On closer inspection, the true attention to detail emerges. The
glove's
"top-load" design allows for an easy, one handed access and for those who carry backpacks, the laptop can be removed without removing the sleeve. Moreover, all seems are double cross-stitched and taped to ensure durability over the long haul. A unique internal "zipper guard" protects the laptop from any scratches and adds a bit more padding. One particularly nice touch, is the lack of throwaway stuffing or packaging that is so common in the accessory market and so detrimental to the environment.
Learn more by visiting
http://www.stmbags.com
Price & Availability:
The STM
glove 
range is available now at SRP £16.95 inc.