Review of STM glove
Laptop bags are out. So 1990s. People nowadays keep their shiny Macbook or Portege or whatever in sleeves made from neoprene (well technically polychloroprene which is produced by polymerisation of chloroprene). Neoprene is DuPont's trade name for its polychloroprene. Many wetsuits are made from it.

Enough of the chemistry/history lesson.

If you've spotted laptops on the train or at a meeting, chances are they'll have been slipped out of some kind of neoprene sleeve. Everyone has them now. You can even get really cheap ones from Poundland. Lots of companies are making them.

Step forward STM with the "glove" (their choice of lowercase not mine!)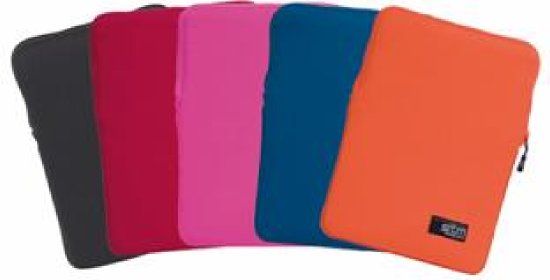 Like most sleeves it's designed to protect your shiny thing from dust, scratches, little bumps and dings. It loads from the top so you can easily remove your device from the sleeve when it's inside another bag. The seams are taped and the zips all have guards to prevent scratches.
And like our friends over at Proporta, STM are also thinking of the environment by not including lots of excess stuffing or packaging with the product. It comes in a recyclable bag and just has a little bit of recyclable plastic attached. And there are several colours to choose from, so you can go for something other than standard issue black...
A great way to protect your shiny thing!