Anime Review Roundup
Manga and Beez have been Twittering again
I still think it's a horrible way to release news. If I did it that way, this report would already be ove…
But both Manga and Beez have been delivering news and non-news this week, and you can read more about it at Anime UK News, or not. It is taken from a twitter feed after all, there's not a lot more that you can add to that. Anyway, in Manga news, they have said that Naruto Shippuden's first volume will be released on the 7th June 2010, and will contain 13 uncut episodes. They have two new live action films in the pipeline, Tokyo Gore School and Chanbara Striptease. The Darker Than Black boxset is due in spring. And Manga's non-news is that they have no plans for a TV channel.
Beez only had the non-news to twit, and they told us that they have no plans to bring My-Otome (The sequel to My-HiME) to the UK.
If you want to know more about all things Manga, head over to the
Anime Chronicle Podcast
, which this week has a half hour interview with Jerome Mazandarani, head marketing honcho at Manga Entertainment. It is well worth a listen for some interesting information on the current state of anime in the UK, as well as some hints of goodies coming from Manga in 2010.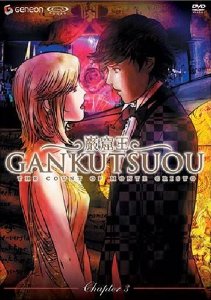 This time last week, I was notably despondent, having reviewed a lacklustre conclusion to Desert Punk, and the 17th instalment of Naruto, drowning in a sea of mediocrity, waves of filler lapping over my head. What a difference a week makes! This week I began with a review of
Gankutsuou - The Count Of Monte Cristo boxset
. It's an import title from Region 1, which despite its obvious brilliance, has never been licensed for UK release. As you can probably guess from the title, it's an adaptation of the Alexandre Dumas classic, and most likely the best thing to come from the auspices of Studio Gonzo. It picked up a prize at the Kobe Animation Awards back in 2005, and has been raved about and praised to high heaven on forums and BBSes all over the Internet. Which is probably why these Geneon boxsets are still cheap and cheerful despite the collapse of the distributor, and despite the fact that Funimation have picked up the series and released their own boxset. Fans never listen to critics after all. Gankutsuou takes the classic tale of revenge, and transplants it to the future, but still tells a tale that is deep, complex, with rich characterisations, and a maturity that few anime shows ever achieve. Read more about why I think this is the best thing since processed cheese slices by clicking on my review.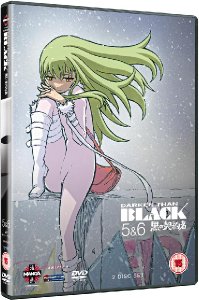 I was really spoilt rotten last week, as then I got to take a look at
Darker Than Black: Volumes 5 & 6
. These two discs conclude the series, a series that is everything that Heroes should have been. Contractors are people with special powers, but for those powers, they are compelled to pay a price, which may be comical, may be debilitating, or may be potentially fatal. It's an interesting future world that comes into existence when the stars vanish to be replaced with false stars, and strange new regions appear on Earth where the laws of physics no longer apply. There is a super-powered cold war taking place around Hell's Gate in Tokyo, with Contractors working for the various governments fighting a secret war against each other, unknown to the general populace. As the series has progressed, more and more details of this world have been revealed, and more of the various factions competing for power. In this final two-disc collection, the truth behind all this becomes clear, leading to an explosive finale that left me begging for more. See why I am desperately waiting for the Darker Than Black: Gemini of the Meteor sequel to be licensed by reading my review.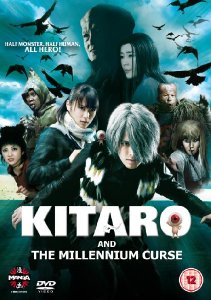 Finally it was the turn of live action manga and anime adaptations, and it could have been the point in the week where my run of happy reviewing came to an end. I have reviewed Kitaro earlier on this site, and I wasn't overly impressed with it. Just in time for the New Year,
Kitaro and the Millennium Curse
is due to be released, and I got an early look. Kitaro is a half demon half human that helps humans who are plagued by evil spirits known as Yokai. In the sequel, he encounters a young girl who after hearing a cursed song, is doomed to lose her soul and die within 48 hours. But as Kitaro investigates and tries to help her, he learns that there is more than meets the eye to this particular curse. The sequel is darker, and more edgy than the first film. See if that made a difference to my opinion by clicking the link above.
Geneon released the Gankutsuou boxset back in 2007, but if you have difficulty locating one, you can import the Funimation 2009 release instead. It's the same show, just on fewer discs. As for Darker Than Black Volumes 5 & 6 and Kitaro and the Millennium Curse, Manga Entertainment release both to the world on the 28th of December, the last gasp of 2009.