New Gold Dream 81-82-83-84...
It's the vogue these days for bands to do an album tour. It started, in my mind at least, with Gary Numan who successfully toured Telekon and Replicas and the tradition carried on with Orchestral Manoeuvres In The Dark touring Architecture & Morality and Human League with Dare. Not to feel left out, Simple Minds are embarking on a 30th Anniversary tour and have decided to perform their classic album New Gold Dream in its entirety. So I trundled off to the Manchester Evening News Arena to have a butchers…

The MEN is a pretty large arena with access straight onto the rail network, so there's something to bear in mind for the next time (did a 5 hour round trip in a car), and there's a McDonalds within the complex as well if you're a bit peckish before you go in. Annoyingly there was also a plethora of touts inside the complex, a breed I'd quite enjoy making extinct. And also a gaggle of old women camping out inside the Arena and eagerly awaiting the sale of tickets for next year's Cliff tour (which I believe is with The Shadows) and happy to talk to anyone interested.

Normally I wouldn't want to talk too much about the support act, but for this date at least it was the reformed Deacon Blue - who I suspect won't be far off headlining their own gigs again. Ricky Ross and the gang were absolutely superb, kicking off with Real Gone Kid and raising the roof from the off. A 50 minute set saw them play Your Town, Fergus Sings The Blue, Chocolate Girl and Wages Day before ending it with Dignity. It was a pretty impressive set with big rocky numbers, only slowing down for Your Swaying Arms and I'll Never Fall In Love Again. They really were superb and I guess because they were in the support role, their set reflected that and they went for the big and popular numbers. Well worth going just for that.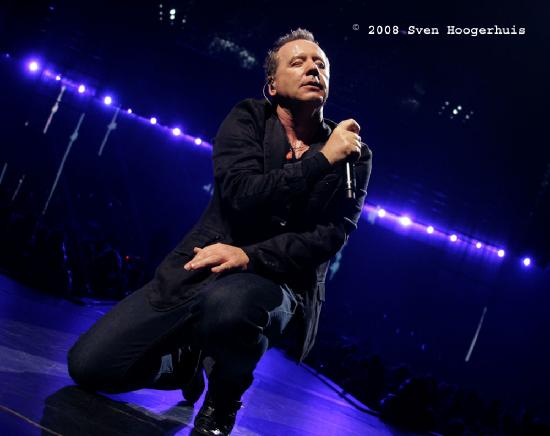 Anyway, after a brief intermission where I got talking to a nice couple from just down the road (hello, if you're reading this) who were amazed that I'd come all the way from Darlington, on came the Minds. The lights were down as they all got into position and then that powerful bassline from Waterfront kicked it all off with a bang. Not sure that they could really have picked a better opener, to be honest. Not long into this pre-set, Charlie Burchill looked suitably embarrassed as Jim announced it was Charlie's birthday and the crowd sang to him. Other highlights were Love Song, Factory and Mel Gaynor relinquishing his seat behind the drums to take centre stage for the chorus of Chelsea Girl. Bizarrely (to me at least) Jim Kerr also sang Hypnotised from the Good News From The Next World album, which to me wasn't a particularly strong track from their vast back catalogue but it may have been a favourite of his, so I won't dwell on it.
About half a dozen tracks in, Jim took a breath and scanned his audience. "I think we're ready", he announced, just before the band launched into Someone Somewhere In Summertime to enthusiastic response for an expectant crowd. I can't remember the exact order but I'm pretty sure that side 1 (of the vinyl LP) was played in order but they tinkered around a little with side 2 - the order isn't that important though as OMD also played around with the order, it's the fact that they played it all. Charlie Burchill's guitar was much more prominent than I remember from the album proper, but what else could you expect from a band where the singer and the guitarist are the current core? Still, it was a pretty faithful and superb rendition of a great album. The audience were a little muted during low-key numbers such as Big Sleep, Somebody Up There Likes You and King Is White And In The Crowd but came to life for crowd pleasers like the opener, Promised You A Miracle, New Gold Dream and Glittering Prize. Overall it was a great performance and well received, with Charlie in particular looking as if he was really enjoying himself.
How could I tell? Well, there were two high definition screens on either side of the stage with lots of close-ups of the bands plus some rather arty shots - my favourite (yes, I'm that sad - I review DVD's for heaven's sake…) was a close up of Charlie's guitar - the image was stunning. A lot of bands now have filmed sequences to accompany the songs but the Minds relied on shots of themselves, and it worked well.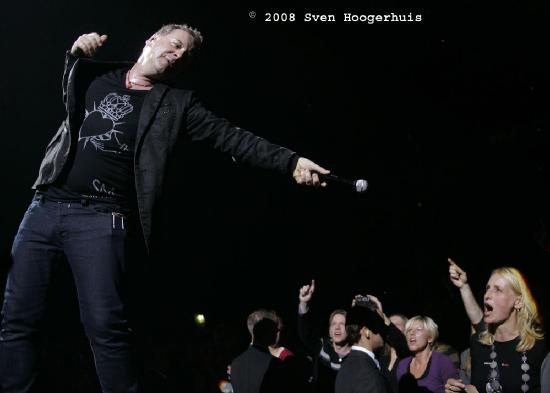 The remaining set and encore was along the lines of the first part of the show. Oddly, to me, the focus of the show outside of NGD was from the stadium rock catalogue, so we had things like Up On The Catwalk, Alive & Kicking, Sanctify Yourself and the ilk. See The Lights from Real Life made an appearance but nothing from pre-NGD, I was a little disappointed not to hear any of The American, I Travel or Themes For Great Cities. That detracts from the overall evening though, and despite these potential omissions, it was a great night and a superb performance.
Two massive highlights for me was the long crowd singalong to Don't You Forget About Me (nothing complicated, just lots of Lalalala's - but at least a couple of minutes and the audience could probably have kept it going all night if Jim Kerr had let them…) and a stunning vocal performance of Belfast Child; I swear you could've heard a pin drop as muted keyboards were Kerr's sole accompaniment before a raucous finale as Charlie, Mel Gaynor and Eddie Duffy kicked in.
The last thing I want to mention is the exit from the MEN was a little long-winded and involved lots of stairs and corridors, and I felt a little like a member of Spinal Tap albeit looking for the exit rather than the stage…