My Wife Is A Gangster (UK)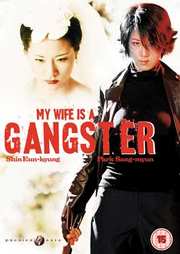 a.k.a Jopog manura
Certificate: 15
Running Time: 103 mins
Retail Price: £12.99
Release Date:
Content Type: Movie
Synopsis:
Get ready for the action-comedy smash hit that took Korean cinema by storm!

Cha (Shin Eun-kyung) is an important figure in the Seoul underworld; even in such a male dominated arena, no one dare take on the wild woman who wields a trademark pair of blades to ensure she gets the job done.

That is, until her terminally ill sister demands Cha be married and have a child before the sickness claims her. As Cha`s associates find a meek civil servant (Park Sang-meon) to be her husband, seemingly the only man naive enough for the job, a rival gangster moves in on Cha`s territory so that even if she gets up the aisle in one piece without her spouse finding out her real vocation, there`s going to be no honeymoon period for these two!
Special Features:
Audio commentary from Asian cinema expert Bey Logan

Video Tracks:
Widescreen Anamorphic 1.85:1

Audio Tracks:
Dolby Digital 5.1 English
DTS 5.1 Korean
Dolby Digital 5.1 Korean

Subtitle Tracks:
English
CC: English

Directed By:
Jin-gyu Cho

Written By:
Moon-Sung Kim
Moon-saeng Kim
Hyo-jin Kang

Starring:
In-kwon Kim
Jae-mo Ahn
Sang-Myeon Park
Eun-Kyung Shin

Director of Photography:
Jo-Myeong Jeon

Editor:
Gok-ji Park

Executive Producer:
Se-won Seo
Sun-yeol Lee

Distributor:
Contender