Review of Book Group, The: Complete Series 2
Introduction
This is the second series of the award winning show. It features several talented actors: Anne Dudek, James Lance, Michele Gomez, Rory McCann, Derek Riddell, Bonnie Engstrom and Saskia Mulder.
In the first series Claire(Dudek), an American in Edinbro` starts a book discussion group to meet people. The story revolves around the book they discuss each week and their personal lives.
Claire`s still with her artist boyfriend Lachlan (Lance). He replaces her previous boyfriend, his brother, who she met through the group and he`s played by the same actor, now with beard, which brings Reggie Perrin to mind.
Footballer`s wife Janice (Gomez) is pursuing her media career. Her husband Jackie is in Spain training with his personal assistant Rab( Riddell), also a group member.
Wheel-chair resident hottie Kenny (McCann) is getting his book published.
Norwegian Dirka, (Engstrom) another footballer`s wife is pregnant and Dutch Fist (Mulder) wants to be pregnant.
Then there is Clare`s new lodger; Jean (Karen Gilgariff), the sister from hell.
The Book Group won a BAFTA Scotland New Talent award for Best Television Entertainment / Comedy Show and Rory McCann won the Scottish BAFTA for Best Television Performance. It also won the Indy Award for Best Scripted Comedy in 2004.
Episode Guide
There are six half-hour episodes:
Suenos
Jackie (husband to Janice) is training in Spain. Rab is with him but with little to do becomes entranced by the silky tones of a Spanish footballer with a broken leg.
Dirka is pregnant and her friend Fist is unhappy and jealous. Without a partner her chances of becoming pregnant are slightly reduced but she makes an effort.
Kenny gets his book published and becomes a wheeled-babe magnet.
Claire is increasingly unhappy with her artist- lover Lachlan and is unable to write. She has Don Quixote fantasies about Kenny.
Hunger
Claire`s sister from hell, Jean, is coming to stay
Janice reveals her job to Jackie
You Must Change Your Life
Kenny dumps his girlfriend. Lachlan is attracted to Jean which results in an unusual swimming pool accident.
Drowning
Lachlan is immobilised. Fist feels `so` pregnant. Claire speaks to Kenny about her feelings. Rab goes down on the farm with Janice
Research
Reading a new book for the group results in Dirka and Fist going all experimental. Jean`s book research makes her a hands-free sexpert. Janice is breaking away.
A` Salaam Insha`Lah
Jean reveals she is getting married. A revealing karaoke session for all. Janice is in love, so is Rab but which way will he swing?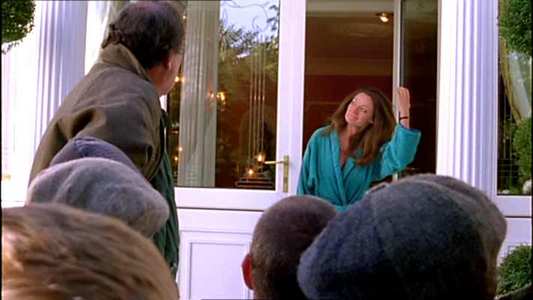 Video
It`s a good quality made for TV picture-no problems.
Audio
Good script, great acting ensemble. No technical problems.
10 out of 10 for the use of seductive Spanish and the use of subtitles-one of the funniest scenes.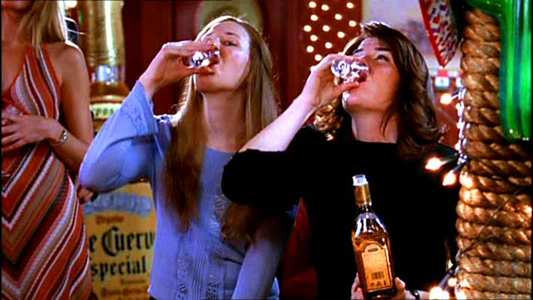 Features
Niente-no surprise there.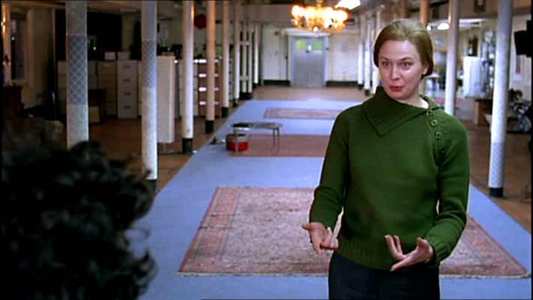 Conclusion
After an uneven start and a lack of familiarity with the characters it grew on me and I enjoyed the final three episodes immensely. This programme is difficult to categorise It`s not a laugh -out loud comedy or a serious drama. Yep it`s another dramedy with the occasional bare bottom. Well only one that I can remember. It doesn`t make you care about the characters but driven by solid acting it makes you laugh and think about the daftness of relationships.
I would recommend series one first to get into the swing of how The Book Group is constructed (and available at bargain prices now). This is a series that benefits from watching 2-3 episodes at a sitting to get the full flavour -try not to burn the ironing.
There is definitely potential for a third series but at least one of the cast, Dudek has moved on to films and has also appeared in Desperate Housewives, so don`t hold your breath.