Birdman Of Alcatraz, The (UK)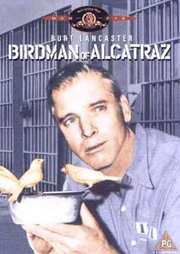 Inside the rock called Alcatraz they tried to chain a volcano they called "The Bird Man"!
Certificate: PG
Running Time: 142 mins
Retail Price: £15.99
Release Date:
Content Type: Movie
Synopsis:
How does bitter convict Robert Stroud cope with a lifetime of solitary confinement? The answer, in a sense, comes from above - in the form of a feeble sparrow he finds in the isolation yard. Stroud brings this newfound companion to his cell, nurses it to health and, from that point on, there`s no turning back.
Despite having only a third grade education, and no hope of parole, Stroud becomes a renowned ornithologist - and archives a greater sense of freedom and purpose behind prison walls than many in the outside world will ever know.

The finest prison picture ever made, this inspirational and compelling classic stars Burt Lancaster in an Oscar-nominated performance as Stroud - the convict who, in his power to heal birds, finds the power to heal himself.
Special Features:
Original Theatrical Trailer

Audio Tracks:
Dolby Digital Mono English
Dolby Digital Mono Spanish
Dolby Digital Mono German
Dolby Digital Mono Italian
Dolby Digital Mono French

Subtitle Tracks:
French
Italian
Spanish
Dutch

Directed By:
John Frankenheimer

Written By:
Guy Trosper
Thomas E. Gaddis

Starring:
Betty Field
Neville Brand
Thelma Ritter
Karl Malden
Burt Lancaster

Soundtrack By:
Elmer Bernstein

Director of Photography:
Burnett Guffey

Editor:
Edward Mann

Producer:
Guy Trosper
Stuart Millar

Executive Producer:
Harold Hecht

Distributor:
Metro Goldwyn Mayer