Story of Film (The): An Odyssey [Steelbook]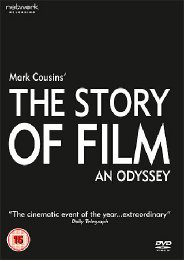 Certificate: 15
Running Time: 15 hours
Retail Price: £51.05
Release Date: 23/04/2012
Content Type: TV Series
Synopsis:
The Story of Film: An Odyssey, written and directed by award-winning film-maker Mark Cousins, is the story of international cinema told through the history of cinematic innovation.

Lovingly researched and five years in the making, The Story of Film: An Odyssey covers six continents and 12 decades, showing how film-makers are influenced both by the historical events of their times, and by each other. It provides a worldwide guided tour of the greatest movies ever made; an epic tale that starts in nickelodeons and ends as a multi-billion-dollar globalised digital industry. Covering many medium-defining moments this exhilarating fifteen-hour journey is independent film-making at its very best.

Described as a love letter' to the movies, Cousins visits the key sites in the history of cinema; from Hollywood to Mumbai; from Hitchcock's London to the village where Pather Panchali was shot, and features interviews with legendary filmmakers and actors including Stanley Donen, Gus van Sant, Lars Von Trier, Claire Denis, Bernardo Bertolucci, Robert Towne, Jane Campion, Paul Schrader, Baz Luhrmann, Ken Loach and Claudia Cardinale.

Click here to download the index to all the films included in The Story of Film.
Special Features:


Related Websites:
http://www.networkdvd.net/temp/storyoffilmindex.pdf

Video Tracks:
1.78:1 / Colour / Black and White

Directed By:
Mark Cousins

Written By:
Mark Cousins