Charlie Chaplin film Limelight arrives on DVD and Blu-ray in March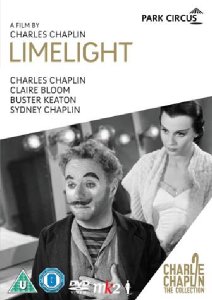 LIMELIGHT
Blu-ray & DVD:
28 MARCH 2011
A FILM BY
CHARLES CHAPLIN
STARRING
CHARLES CHAPLIN
CLAIRE BLOOM
BUSTER KEATON
SYDNEY CHAPLIN
BAFTA Awards 1953
Most Promising Newcomer to Film: Claire Bloom
ACADEMY AWARDS 1973
- Best Music, Original Dramatic Score
Synopsis:
Limelight
tells the story of a fading music hall comedian's efforts to help a despondent ballet dancer learn both to walk and feel confident about life again. The highlight of this moving, Academy Award-winning film is the classic duet with Chaplin's only real artistic film comedy rival, Buster Keaton. The Blu-ray version features the film restored in HD (in both BD and DVD formats) and the following extras (on the DVD disc).
EXTRAS
• Introduction by David Robinson
•
Chaplin Today:
Limelight documentary
• Deleted scene
•
Footlights
- excerpts from the original novel, read by Chaplin
RUNNING TIME : 132 minutes
CAT NO DVD - PC0022 BD - PCB0022
BARCODE 5060203340247, 5060203340223
RRP DVD - £15.99, BD - £19.99
CERT U