WWE: Steve Austin:The Most Popular Superstar Of All Time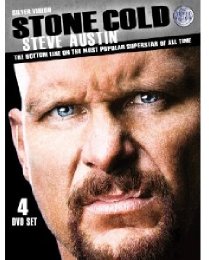 Certificate: 18
Running Time: 571 Mins
Retail Price: £32.99
Release Date: 28/11/2011
Content Type: Movie
Synopsis:
Over 4 disks WWE presents the very best of arguably (or not) the greatest WWE superstar of all time: Stone Cold Steve Austin.

This set covers his whole career, from his early days in USWA, WCW and ECW through to his debut in WWE as The Ringmaster and final emergence as Stone Cold Steve Austin.

Over the four disks we also see some of Hall of Famer Stone Cold's greatest matches, some with alternate audio commentary with fellow Hall of Famer Jim Ross. Relive his feuds against The Rock, Mick Foley, Shawn Michaels, Bret Hart and of course Vince McMahon.

If you wanted a disk that covered everything about Stone Cold then give me a HELL YEAH!!!! And that's the bottom line, because Stone Cold said so!
Special Features:
Stunning Steve Austin vs. Gentleman Chris Adams

Stunning Steve Austin & Ric Flair vs. Sting & Ricky 'The Dragon' Steamboat

King of the Ring Final
Stone Cold Steve Austin vs. Jake "The Snake" Roberts

Submission Match
Stone Cold Steve Austin vs. Bret "Hit Man" Hart
W/ Alternate Commentary By: Stone Cold Steve Austin & Jim Ross

Intercontinental Championship Match
Stone Cold Steve Austin vs. Rocky Maivia

WWE Championship Match
Stone Cold Steve Austin vs. Shawn Michaels
W/ Alternate Commentary By: Stone Cold Steve Austin & Jim Ross

No Disqualification, Falls Count Anywhere Match for the WWE Championship
Stone Cold Steve Austin vs. Dude Love

WWE Championship Match
Stone Cold Steve Austin vs. Undertaker

Stone Cold Steve Austin vs. Big Show

No Disqualification Match for the WWE Championship
Stone Cold Steve Austin vs. The Rock

No Disqualification Match for the WWE Championship
Stone Cold Steve Austin vs. The Rock
W/ Alternate Commentary By: Stone Cold Steve Austin & Jim Ross

Special Features
The Autograph

Hair Club

The Rattlesnake

Tangled

Punked

The Stunner

Bleed For Me
A Flare for the Old
WCW Saturday Night - 5th June, 1993
"A Bunch of Violent Crap"
Hardcore TV - 10th October, 1995
Monday NyQuil
Hardcore TV - 31st October, 1995
"Flat Out Disgusted"
Hardcore TV - 19th December, 1995
"My Exact Opinion of Bret Hart"
In Your House: Mind Games - 22nd September, 1996
Stone Cold on Livewire
Livewire - 19th October, 1996
Home Invasion
Raw - 4th November, 1996
1996 New Sensation Award
Slammy Awards Show - 21st March, 1997
Freedom of Speech Award
Slammy Awards Show - 21st March, 1997
Ambulance Attack
Raw - 21st April, 1997
The World's Most Famous Stunner
Raw - 22nd September, 1997
Tyson and Austin!
Raw - 19th January, 1998
The Easy Way or the Hard Way
Raw - 30th March, 1998
Zamboni 3:16
Raw - 28th September, 1998
Paging Dr. Austin
Raw - 5th October, 1998
McMahon's Cement Corvette
Raw - 12th October, 1998
Bang 3:16
Raw - 19th October, 1998
Stone Cold Beer Truck
Raw - 22nd March, 1999
The Funeral of Stone Cold Steve Austin
Raw - 19th April, 1999
Austin's Revenge
Survivor Series - 19th November, 2000
Jim Ross Interviews Steve Austin and The Rock
SmackDown! - 22nd March, 2001
Gift Giving Mood
SmackDown! - 5th July, 2001
Mr. McMahon's Alliance Woes
SmackDown! - 12th July, 2001
The Old Stone Cold
SmackDown! - 19th July, 2001
Whataburger
Raw - 14th January, 2002
The Highlight Reel
Insurrextion - 7th June, 2003

Related Websites:
http://www.silvervision.co.uk/products/Steve-Austin-The-Most-Popular-Superstar-Of-All-Time-DVD-4-Discs.html#

Distributor:
Clear Vision Ltd