The Road is Jericho - Epic Stories & Rare Matches Y2J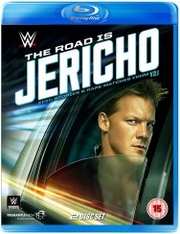 Certificate: 15
Running Time:
Retail Price: £22.99
Release Date: 16/03/2015
Content Type: TV Series
Synopsis:
Welcome to The Road Is Jericho! Jump into the back of a limousine with WWE Superstar and entertainment jack-of-all-trades Chris Jericho, as he travels across the country and gives you a unique glimpse at what life on the road is all about.

This set features a never-before-seen sit-down interview with Y2J that breaks down his highlight reel of a career and provides an in-depth look at all of his favourite moments, matches, and stories in ECW, WCW, and WWE.

Sit back and prepare to never EVER be the same again!
Special Features:
Hardcore Heaven
ECW World Television Title Match
Chris Jericho vs. PitBull 2

Bash at the Beach
WCW Cruiserweight Championship Match
Chris Jericho vs. Ultimo Dragon

Uncensored
WCW Cruiserweight Championship Match
Chris Jericho vs. Dean Malenko

No Mercy
Steel Cage Match
Chris Jericho vs. X-Pac

Armageddon
Last Man Standing Match
Chris Jericho vs. Kane

Raw
WWE Championship Match
Chris Jericho vs. Stone Cold Steve Austin
with Special Outside Referee Mick Foley

Raw
WCW World Heavyweight Championship Match
Chris Jericho vs. Booker T

Rebellion
WCW Championship Match
Chris Jericho vs. Kurt Angle

Royal Rumble
WWE Undisputed Championship Match
Chris Jericho vs. The Rock

Smackdown
Winner Faces Hulk Hogan for the Undisputed Championship
Chris Jericho vs. Triple H

Raw
Chris Jericho vs. Jeff Hardy

Raw
Chris Jericho vs. Edge

Raw
Last Man Standing Match
Chris Jericho vs. Shawn Michaels

Raw
Street Fight for the World Heavyweight Championship
Chris Jericho vs. John Cena

The Bash
Mask vs. Intercontinental Championship
Chris Jericho vs. Rey Mysterio

Raw
Triple Threat Tag Team Match
Chris Jericho & Big Show vs. John Cena & The Undertaker vs. D-Generation X

Extreme Rules
Chicago Street Fight for the WWE Championship
Chris Jericho vs. CM Punk

Raw
Chris Jericho vs. Rob Van Dam

Raw
Steel Cage Match
Chris Jericho vs. Bray Wyatt

Night of Champions 2014
Chris Jericho vs. Randy Orton

Blu-ray Extras

Unforgiven
Ladder Match for the Intercontinental Championship
Chris Jericho vs. Christian

Raw
Intercontinental Championship Match
Chris Jericho vs. Rey Mysterio

Fatal 4-Way
Chris Jericho vs. Evan Bourne

Payback
Chris Jericho vs. CM Punk

Related Websites:
http://www.wwedvd.co.uk/road-jericho-epic-stories-rare-matches-p-11892.html

Distributor:
Fremantlemedia Ltd