The Interrupters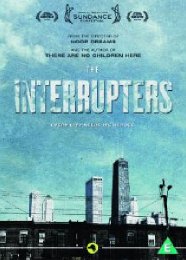 Every city needs its heroes...
Certificate: Exempt
Running Time: 125 minutes
Retail Price: £14.99
Release Date: 05/12/2011
Content Type: Movie
Synopsis:
The Interrupters, all former gang members, bring 500 years of prison time to the table. As members of the experimental anti-violence programme CeaseFire, they aim to intervene in conflicts before they explode into violence. At their heart is Ameena Matthews, an ex-gang enforcer and daughter of a notorious gang leader who launches herself into the middle of erupting conflicts, using her rhetorical gifts to cool the hottest heads.

Academy award nominated director Steve James (Hoop Dreams and Stevie) working with acclaimed author Alex Kotlowitz follows The Interrupters for a year. He delivers an epic and ultimately uplifting film which chronicles the difficulty
of breaking generational cycles of violence, and the potential for redemption
which lies within every one of us.
Special Features:
41 minutes of detleted scenes

Theatrical Trailer

Al Jazeera Fabulous Picture Show including interview with Steve James

Audio Tracks:
2.0 Stereo

Directed By:
Steve James