Flypaper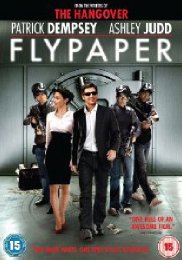 Two banks heists, one very sticky situation...
Certificate: 15
Running Time:
Retail Price: £9.99
Release Date: 10/10/2011
Content Type: Movie
Synopsis:
Tripp Kennedy (Patrick Dempsey) ambles into a bank near closing time, just as
two different gangs unwittingly converge to rob it. A shoot-out erupts, and Tripp tackles the smart, pretty teller (Ashley Judd), to protect her. 

The gangs—one clearly made up of pros and the other a couple of buffoons named
Peanut Butter (Tim Blake Nelson) and Jelly (Pruitt Taylor Vince) - have deadlocked themselves in a Mexican standoff. The bank's security system starts
the end of day lockdown and seals everyone into the building.

As the night evolves, a hilarious game of cat and mouse ensues as Tripp and Kaitlin try to save the day, escape being killed, and avoid falling in love... almost.
Special Features:
N/A

Audio Tracks:
5.1 Surround

Subtitle Tracks:
English

Directed By:
Rob Minkoff

Written By:
Jon Lucas
Scott Moore

Starring:
Ashley Judd
Patrick Dempsey
Octavia Spencer
Tim Blake Nelson
Jeffrey Tambor
Mekhi Phifer
Pruitt Taylor Vince
Curtis Armstrong

Casting By:
Kerry Barden
Paul Schnee

Soundtrack By:
John Swihart

Director of Photography:
Steven Poster

Editor:
Tom Finan

Costume Designer:
Mona May

Production Designer:
James A. Gelarden
Alec Hammond

Producer:
Peter Safran
Mark Damon
Moshe Diamant
Patrick Dempsey

Distributor:
Lions Gate Home Entertainment