B-Girl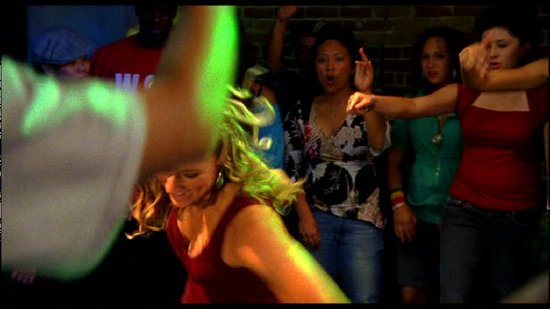 Movies about dance and street dance in particular, seem to have been quite popular over the last five years. We've had 'Step Up', 'Save the Last Dance', 'Make it Happen', Stomp the Yard' and 'You Got Served' - and some of these have already enjoyed a sequel. So what makes 'B Girl' different?
'B-Girl' is a little grittier than most with clearly lower production values and a cast that you could hardly say reflected Hollywood gloss. In fact, I'm ashamed to say that my teenage daughters even commented on the look of the lead, declaring her unsuitably 'plain' to take such a role.

The publicity claims that the film features some of the biggest and best b-boys in the world, including FleaRock, Legacy, Remedy, Steelo and others. Apart from the fact that they sound like the first names of the Three Stooges or Muppets or maybe Marvel super heroes, they don't mean jack to me so you'll guess that I'm not much of a fan of the genre. But having said that, the aforementioned daughters are and, as keen dancers themselves, are definitely in the target demographic for this film.



In the movie, the lead, 'Angel', is played by relative newcomer Jules 'Lady Jules' Urich who has previously been amongst the dance crews on 'Beat Freaks', 'You Got Served' and 'Step Up 2' but here takes centre-stage (which I think was the name of yet another dance oriented movie!).

Angel is really only ever truly 'alive' when she is dancing and break dancing (spinning on your swede etc) is her favourite dance style. But this isn't stage dancing but street dancing which is fiercely competitive with one dancer trying to out-dance the other. Angel is one of the hottest dancers in Brooklyn and hangs out in clubs full of other dancers. But shortly after we see her in one of these dance-offs, she is brutally attacked by an ex-boyfriend who stabs her and a friend who dies. (Note: Not a scene for kids, hence the 12 rating which, for once, seems a bit low in my opinion).

The attack takes away all of her confidence and she withdraws from her previous life and moves to her mother's house in LA. But she has no friends there and no life and her mother fears that if she returns to dance it will be a return to her violent past-life. But dancing is Angel's life and she is lost without it.

Her Grandmother recommend that she joins a local therapy group at a local church to try and overcome her fear. Angel grudgingly agrees but is surprised to find an open break-dance practice session going down for East LA kids. This brings all the memories back and she leaves in a state of depressed confusion.

But when she meets Carlos (Wesley Johnathan) who is a local teacher and ex-b-boy, she gets the courage up to go back to the church and eventually earns an invite to join their crew.

She realises that she can't live her life in fear of the past. Her mother, who has been arguing with Angel about where the dancing might lead sees how important dancing is to her daughter and eventually realises that it can be a positive force too. This bolsters Angel's confidence and she takes her new found strength back out to the dance floor.

Apart from the fairly frequent dance sequences, which play out like an MTV video, the film is actually quite a dark and depressing psychological drama. Despite its positive message at the film's end, the damage has already been done and this is one feel good movie that just feels too bad for too long to ever be truly uplifting.

Gritty and engaging to a degree it just doesn't pack the positive punch that its demographic really craves; a fantasy where even with an outside chance the principal triumphs over adversity to become universally praised by peer group and parents and teachers alike. It gets most the way there but can't resist injecting just too heavy a dose of reality in there too making it a slightly confusing watch. It's not quite sure what sort of film it wants to be. As a result, my daughters watched it and enjoyed it but declared it in no way comparable to either 'Step Up', 'Honey' or 'Save the Last Dance'.

The picture quality is reasonable though some of the club scenes are a bit bleakly lit. Audio is pumping on both 2.0 and 5.1 where you get a bit of extra back fill and crowd noise.

Extra Features

include:

Lady Jules; Behind the B-Girl (6m 45s)

- interview piece to camera with cutaways which reveals an actress who is refreshingly down to earth.

Wesley Jonathan: 'Carlos'

(3m 45s) - another to camera piece from a likable actor / dancer / singer.

B-Boy Profiles: Ivan 'Flipz' Velez

 - (03.52)  - interview with the master at spinning on his head about, well, spinning on his head amongst other things.

The Battle

(5m 40s) - is a featurette about the final dance off. Yo!

Bloopers

(5m 26s) - a series of unfunny mistakes replete with original burnt in timecode.

Dance Auditions

(7m 20s) - the most entertaining of the extras. These filmed try-outs are better than X-Factor any day in my book. 

Summary

Sadly, apart from some great break-dancing, 'B-Girl' feels very B-movie, second rung to others in the genre which look better, have better scripts and better casting. It all feels a bit, well, amateurish.  It also suffers from being a bit of a schizoid movie in that it doesn't quite know what it wants to be...a depressing psycho-drama or an uplifting dance movie. In truth, it tries hard to be both but, though that may sound like a good idea on paper, it just doesn't quite gel. Fortunately, in common with countless youth movies before it, the sheer youthful exuberance of the dance pieces are just about enough to lift it to watchable status. I suppose the bottom line is, if you love break-dancing then you may want to get this just for that. Anyone else should satisfy their curiosity with a rent, or wait a few months for this to drop into the bargain bins.  Or avoid it altogether.