Jacques Tati Collection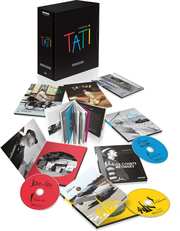 Certificate: PG
Running Time: 578 Mins
Retail Price: £69.99
Release Date: 21/07/2014
Content Type: Movie
Synopsis:
A comprehensive feast of Jacques Tati for the eyes and ears, containing three versions of Jour de Fête, two versions of Les Vacances de M. Hulot, two versions of Mon Oncle, Playtime and - for the first time on Blu-ray - Parade and Trafic, plus a disc of Tati short films.

Full contents: Jour de Fête - restored 1949 version, restored 1964 version and 1995 version; Les Vacances de Mr Hulot - 1953 version and the restored 1978 version; Mon Oncle and My Uncle, Playtime (restored), Trafic (restored), Parade (restored) and the short films: On demande une brute (1934), Gai dimanche (1935), Soigne ton gauche (1936), L'école des facteurs (1946), Cours du soir (1967), Dégustation maison (1976) and Forza Bastia (1978).
Special Features:
7 discs
Jour de Fete: À l'américaine: Jour de fete documentary (2013, 78 mins)
Original Trailer
Les Vacances de M. Hulot: Beau Temps, Vent Léger documentary (39 mins)
Mon Oncle: Tout est Beau documentary (52 mins)
Tout Communique documentary (51 mins)
Playtime: Jacques Tati on Tempo (25 mins)
Like Home documentary (18 mins)
Sequences commentary by Jérôme Deschamps and Stéphane Goudet
Trafic: Trafic International: Interview with Jonathan Romney (2013, 15 mins)
Parade: En piste documentary (2013, 27 mins)
Short Films: Les leçons du professeur Goudet: An analysis of the cinema of Jacques Tati
56 page booklet.

Subtitle Tracks:
English

Directed By:
Jacques Tati

Written By:
Jacques Tati

Starring:
Jacques Tati