Safeapzz launches PC Optimizer v 2
Ensure your computer is running to its optimal level with this comprehensive, utility software
Safeapzz announces the launch of PC Optimizer v2. Safeapzz PC Optimizer is a collection of computer maintenance tools to safely repair, clean and optimize windows, stop PC crashes and fix windows errors. PC Optimizer removes junk files to save valuable disk space. PC Optimizer is the essential tool to keep your computer running cleanly.
PC Optimizer has a straight forward interface and repairs all the invalid references which cause PC errors, constant crashes, general system slowdowns and other PC problems. It includes the most comprehensive set of utilities required to keep your PC running smooth, clean and error free.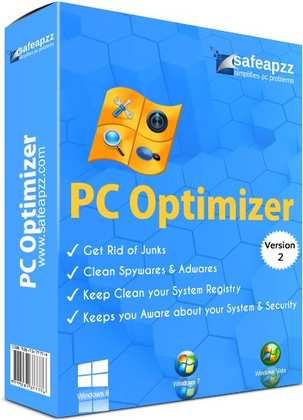 Main Features
Clean your system registry - Safely clean Windows registry and keep your computer running at its optimal level.


Eliminate PC errors and general system slowdown - Repair all PC errors, constant crashes, general system slowdowns and other PC problems.


Clean Spywares and Adwares - PC Optimizer clears spywares and adwares from your computer and improve your system performance.


Startup Manager - Allows you to control, configure and review your programs, either when you power up your system or logon to Windows.


Compatible with Windows, Vista 7 & 8


Price & Availability
Safeapzz PC Optimizer is available at SRP £31.50 from
https://www.safeapzz.co.uk/
About Safeapzz
At the frontier of software development, Safeapzz is a leading developer and publisher of computer maintenance and optimization software. Safeapzz is well known for providing ultimate and vital solutions to its customers. The company creates maintenance tools to enhance and mobilize the working of computers. They strive to create leading technologies to ensure the efficient working of computers at all times.. Their passion is to design, develop and deliver excellence in their products. With some brilliant and tech-obsessed software developers on board, Safeapzz. believes in gaining customer trust through providing maximum satisfaction from its product range.
https://www.safeapzz.co.uk/