Peter Kay Live & Back on Nights
Britain's most loved stand-up returns to DVD as you've never seen him before
After the biggest selling stand-up DVD of 2011, Peter Kay is back with EVEN more brand new live comedy taken from his Guinness World Record breaking eighteen-month tour across the UK. Includes over 55 minutes of NEW live stand-up from the most successful comedy tour of all time. Peter Kay Live & Back on Nights! is available on ultraviolet Blu-Ray and DVD from 19th November.
Peter Kay's spectacular stand up career has seen him reach dizzying heights and he's now often described as a pioneer in the modern entertainment industry. Peter Kay Live & Back on Nights! is a unique and hilarious look behind the scenes at life on the road as Peter reveals how he created his mammoth tour spanning a marathon eighteen months and breaking record after record.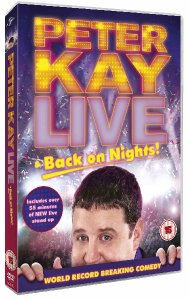 In Peter Kay Live & Back on Nights!, Kay speaks with a refreshing and heart-warming honesty about his life as a comedian, his hopes for the tour and where he finds his inspiration. The DVD follows Kay from the warm-up shows right through to the emotional final night at the Manchester Arena, with power cuts, compelling behind-the-scenes footage and other hilarious antics along the way.
Kay's witty one-liners and natural spontaneity combine magically to make everyday situations funny. Yet behind the hype and the world-records, we find a man humbled by his success and eager to keep his feet on the ground.
Join Peter Kay on a remarkable journey, as you have never seen him before, over eighteen months on the world's official biggest comedy tour, featuring exclusive backstage and on the road footage, and over 55 minutes of new stand up material. Get your backstage pass to Peter Kay and get ready for a rollercoaster ride of laughs, wonder and emotions when Peter Kay Live & Back on Nights! goes on sale on Ultraviolet Blu-Ray and DVD from 19th November.
Watch 2 clips below:-
DVD details
Title: Peter Kay Live & Back on Nights
Certificate: 15
DVD Format: UV Blu-Ray and DVD
Run Time: 1hr and 34 minutes
Genre: Comedy
RRP: DVD £21.99/ BD £26.99
Special Features
Special non-swearing mums version included on the DVD and Blu-ray!