Torture porn returns with Hostel: Part 3 out on DVD and Blu-ray in January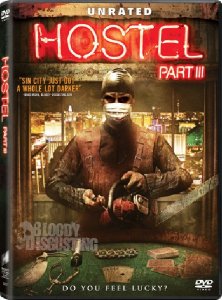 HOSTEL: PART III
Debuting on Blu-ray™, DVD and Digital Download on January 23
Hostel I-III Boxset also available on DVD January 23
London
, UK
. 14/11/11
-
Get ready for the next disturbing chapter in the terrifying
Hostel
franchise when
Hostel: Part III
debuts on Blu-ray, DVD and Digital Download January 23 from Sony Pictures Home Entertainment. The film contains even more disturbing and shocking moments than its predecessors, bringing the underground world of the notorious Elite Hunting Club to "Sin City," where human torture has been turned into a high stakes gambling opportunity. The cast includes Thomas Kretschmann (
Wanted
,
Resident Evil: Apocalypse
), Brian Hallisay (TV's "Privileged"), Kip Pardue (
Remember the Titans
), John Hensley (TV's "As the World Turns"), Chris Coy (TV's "True Blood"), Skyler Stone (TV's "Raising Hope") and Sarah Habel (
Whip It
). Bonus materials include commentary with Director Scott Spiegel (
From Dusk Till Dawn 2: Texas Blood Money
) and actor Kip Pardue.
Hostel: Part III
will be available on Blu-ray for £19.99 and on DVD for £15.99.
Synopsis:
High stakes gambling takes on a sinister new meaning in this third chapter of the terrifying
HOSTEL
series. While attending a bachelor party in Las Vegas, four friends are enticed by two sexy escorts to join them at a private party way off the Strip. Once there, they are horrified to find themselves the subjects of a perverse game of torture, where members of the Elite Hunting Club are hosting the most sadistic show in town.
Hostel: Part III
was directed by Scott Spiegel from a screenplay by Michael D. Weiss and was produced by Chris Briggs and Mike Fleiss.
Hostel: Part III
Blu-ray
& DVD Bonus Features:
Commentary with Director Scott Spiegel and Kip Pardue
Hostel: Part III
has a running time of 88mins on Blu-ray and 84mins on DVD and is rated 18.
PRODUCT INFORMATION
TITLE
HOSTEL: PART III, HOSTEL I-III DVD BOX SET
Release Date
January 23, 2012
Format
Hostel: Part III - DVD & Blu-ray, Hostel I-III Box Set - DVD
RRP
DVD: £15.99, Blu-ray: £19.99, DVD Box Set: £19.99

Certificate
18

Genre
Horror
Running Time
DVD: 84mins, Blu-ray: 88mins