Crime fighting without super powers in Super out on Blu-ray and DVD this August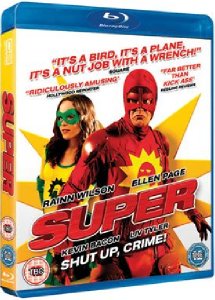 Super

WRITTEN & DIRECTED BY
James Gunn
STARRING
Rainn Wilson
Ellen Page
Liv Tyler
Kevin Bacon
"This is a film that stands
very clear of others and will grip you
to the very end."
SCREENJABBER
SHUT UP, CRIME!
"It's a bird, it's a plane, it's a nut job with a wrench!"
Square
"Far better than Kick Ass"
-
Reeling Reviews.com
"seriously twisted, ridiculously amusing"
Hollywood Reporter
Frank (
RAINN WILSON
) is an average guy who starts dressing up as superhero The Crimson Bolt after his wife Sarah (
LIV TYLER)
leaves him for smooth-talking drug dealer, Jacques (
KEVIN BACON
). What Frank lacks in superpowers, he makes up for with a trusty wrench in his one-man war on petty criminals. Powers or not, every superhero needs a sidekick. Enter Libby (
ELLEN PAGE
), a cute psychopath working at the local comic book store. Transforming into 'Boltie', Libby teams up with Frank to take Jacques down.
From the surprising imagination of writer-director JAMES GUNN (
Slither
) comes Bolt and Boltie, a crazed crime fighting duo here to save the day, or at least to beat you up.
Out on DVD & Blu-Ray 1 August.
RUN TIME: 96mins
EXTRAS: Behind the Scenes/ Trailer
CERT: 18
RRP: (DVD) £15.99 (Blu-ray) £19.99
BARCODE: (DVD) 5060255690604 (Blu-ray) 5060255690611

CAT NO: (DVD) G2P060 (Blu-ray) G2PB060