Urban British flick Terry hits DVD this March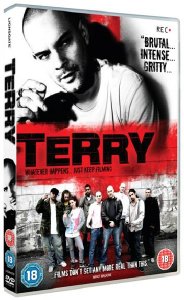 Lionsgate
Presents
TERRY
AVAILABLE ON DVD 14 MARCH 2011
"films don't get any more real than this…"
IMPACT MAGAZINE
"Groundbreaking... Strikingly authentic from start to finish. A sparkling north star in the bland night sky of grassroots urban British cinema. Nick Nevern and his producer Jason Maza are two to watch"
Noel Clarke
"Honest, Raw and pulls no punches.... A Proper film"
Leo Gregory
Synopsis
In the summer of 2009, Charlie Ruez made a documentary...
Six months later the footage was seized for evidence by the Metropolitan Police Department...In 2010... The footage was released.
TERRY. Whatever Happens...
Just Keep Filming...



RUNNING TIME:
82 mins
CERT:
18
PRICE
: RRP: £15.99
CAT NO:
LGD94339
BARCODE:
5060052418463 (BLU RAY: 5060052418487)