Titanfall
If you have a passing interest in video games then you will at the very least have seen the hype for and heard of Titanfall, but what is it? Depending on who you listen to, it's either the future of gaming or just an amalgam of lots of things that came before. The hype is definitely in the ascendancy though as already this game has won a number of critic awards before even being published.

So what exactly is it? Well it's a futuristic first person shooter brought to us by Respawn Entertainment, a new software house that was formed when a large section of Infinity Ward upped sticks and went off to do their own thing. Titanfall is their first release. Titanfall is about the ongoing battle between two sides; the imperialist IMC and the rebel Militia. The backstory is as simple as that and isn't really examined in much depth beyond that, even in the Campaign.

What is attracting people to this game is the perceived changes to the FPS as we traditionally know from the big guns of this genre such as the Call of Duty and Battlefield franchises. As it's a futuristic title, we get changes in movement control, so players can run vertically along walls for short periods of time in a variation of parkour. The other attraction to most people is the addition of mechs, or Titans as they're known here, which fall out of the sky when summoned by players and can either be piloted by said player or can just follow you around killing anything it comes across or left on guard duty. Titans are a lot of fun. As well as having normal weapons, they can also squash people and punch either enemy soldiers or Titans – but beware, your Titan can also fall victim to a 'rodeo' by an enemy Pilot who can attempt to take it down by shooting into its core with their primary weapon of rifle or pistol.  It's a great feeling when you take down a Titan, take my word for it...
The maps are fast paced but with only six players on each side, and they're known as Pilots. 6 vs 6? Is that all? Well, not quite. The map is filled with both grunts and specialised robots called Spectres. Grunts are just there as cannon fodder, but Spectres can either be killed or hacked to fight on your side. And there's the odd heavy duty turret that can also be hacked and used. You get points for everything or one you kill, plus a number of other objectives such as hacking, calling Titans, etc.
As stated previously, there is both a Campaign and a Multiplayer version called Classic. The reason it's called Classic is that the Campaign is not a single player mode, it's online with 11 other players but the only difference is that only two modes are used and there are cut scenes that don't really mean very much in terms of story. OK, so now that's established, let's look at the player modes:
Attrition – kill everything
Last Titan Standing – every pilot spawns initially in a Titan, although once it's destroyed you can carry on via foot if you need, but once you're dead there is no respawning
Hardpoint – this is a conquest mode where you take attempt to control the map by taking over three points on the map
Capture The Flag – capture the enemy's flag and try to return it to your base to score
Pilot Hunter – in this mode you only pick up point if you kill another enemy Pilot
The game is fast and it would be very easy to fall prey to those sad (or dedicated) individuals who always sink hundreds of hours into games like this (there are already players who have multiple levels of Prestige after less than a week – do they not have a life?) and this is where the grunts and Spectres come into play. They allow the lesser players, such as myself (just average in most FPS games), to gain adequate points to level up without having to worry about dying lots or not having the reflexes to kill lots of Pilots. Hacked Spectres will not only fight on your side but also hack other nearby enemy Spectres so you could potentially have a large group fighting on your side – although they are quite easy to take down, just not as easy as the grunts. Don't be too complacent though, all enemies can kill you even if they're not the most intelligent AI.
So what's it like? Well, it's fast and furious albeit a little on the short side. That's not really a problem though as this is a great game to dip in and out of and the battles are probably just about the right length. It's not like Battlefield, which is much more about tactics on a larger map and in truth doesn't in my view have the longevity of the Battlefield franchise. And that's because this is essentially CoD in space.
There, I've said it. I've played a couple of CoD titles and they are fine to dip into but get boring very quickly. Respawn have attempted to address this issue with the additions they're made so that you're not just wandering around trying to get the drop on other players on a flat surface on a small map. The map is still small but there's now a lot of variation in what you can do.
Will this kill Battlefield? Not a chance. It may well kill Call of Duty though as this is clearly where that franchise needs to go and possibly where the team who left Infinity Ward have wanted to take it for a while (maybe Activision just wouldn't let them), and if you look at the rather lacklustre reviews of Ghosts, maybe they have a point.
Cracking game, but not a life changer really.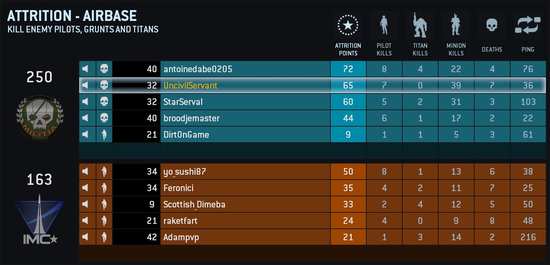 O
h, be aware that this is a massive 45GB install.  35GB of this is the audio, so make sure you either have a great connection or go off and watch TV or something while this installs...