Pinball Arcade (iOS)
Real pinball for modern gaming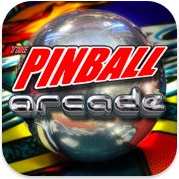 Certificate / Rating: Retail Price:
£0.69
Release Date:
Genre: Arcade
Perspective: 3D
Resolution:

Related Websites:
https://itunes.apple.com/gb/app/pinball-arcade/id455826958?mt=8
http://www.pinballarcade.com

Platforms:
iPhone
iPod touch
iPad
iPhone 5.

Publishers:
FarSight Studios

Studios:
FarSight Studios

Description:
Pinball Arcade by FarSight Studios features exact recreations of the all-time greatest pinball tables from Williams®, Bally®, Stern Pinball®, and Gottlieb® together in one game.

Each month, regular updates will add classic pinball tables for years to come!

We're excited to introduce streaming videos to the Arcade (the new Videos icon on the main menu). Our first video is The History of Pinball, a fascinating chronicle of our favorite pastime. Check it out!

Our goal is for the Pinball Arcade to become the most realistic and comprehensive pinball game ever created. Please support us in our efforts to preserve these tables and join the indelible part of Americana that is pinball!