Zen Pinball (iOS)
The most exciting mobile pinball game experience available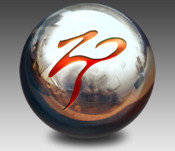 Certificate / Rating: Retail Price:
Free
Release Date:
Genre: Arcade
Perspective: 3D
Resolution:

Related Websites:
http://www.zenstudios.com/
https://itunes.apple.com/gb/app/zen-pinball/id465694275?mt=8

Platforms:
iPhone 3GS
iPhone 4
iPhone 4S
iPhone 5
iPod touch (3rd generation+)
iPad

Publishers:
ZEN Studios Ltd

Studios:
ZEN Studios Ltd

Description:
From the creators of Zen Pinball, Marvel Pinball, and Pinball FX2, comes Zen Pinball for iOS devices, the most exciting mobile pinball game experience available! Featuring interactive 3D models, the most advanced ball physics, rich social features and hot seat multiplayer, Zen Pinball for iOS devices continues the rich pinball tradition established by Zen Studios, the definitive leader in pinball videogames.

Running best on the iPhone 4, iPad2 and iPod Touch (gen4), Zen Pinball on iOS sets a new standard for realistic ball physics and graphical detail in pinball video games employing cutting-edge visuals, challenging tables, true-to-life ball and table physics and combines them with innovative features not found in any other pinball game.

Your Pinball Arcade
Think of Zen Pinball as your own personal pinball arcade! The game is a free download featuring many different pinball tables, including the critically acclaimed Marvel Pinball series.

FREE Table!
Zen Pinball comes with the Sorcerer's Lair table absolutely free! There are no strings attached, we are giving you a FREE table.