MMA (iPhone, iPod Touch, iPad)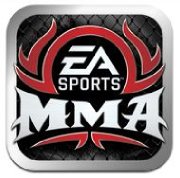 Certificate / Rating:
12+
Retail Price:
£2.99
Release Date:
20/10/2010
Genre: Fighting
Perspective: 3D
Resolution:

Related Websites:
http://www.ea.com/games/mma-iphone

Platforms:
iPhone
iPod Touch
iPad

Publishers:
EA Sports

Studios:
EA Mobile

Description:
Experience the most massively authentic fighting game on the App Store with over 20 real MMA fighters, superior visuals made to maximize the Retina Display, and a Career Mode with deep fighter customization.

Punch, kick, and grapple across 3 weight classes with 24 of the world's finest fighters, including Fedor Emelianenko, Randy Couture, Ken Shamrock, Bas Rutten, Andrei Arlovski, and more. Experience arenas in the USA, Japan, and Brazil, and mix it up in a hexagon, boxing ring, or circular ring - more than just an octagon!

Maximized for Retina Display, the visual quality of MMA by EA SPORTS is as powerful as the aggressive gameplay. Create your own fighter in Career Mode and play out the dream of becoming a world-class MMA superstar. Select everything from your weight class and fighting style, to hair style and attitude. Even choose your entrance music! Then, train hard, boost your attribute points, and become a mixed martial arts legend!