UFC: Undisputed 2009
Mixed Martial Arts comes to XBox 360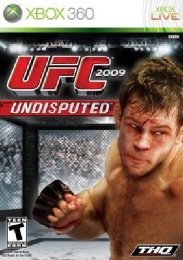 Certificate / Rating:
15
Retail Price:
£49.99
Release Date:
May 2009
Genre: Fighting
Perspective:
Resolution:

Related Websites:
http://www.ufc.com

Platforms:
XBox 360

Publishers:
THQ

Description:
# Authentic UFC Personalities: Explore a deep roster of more than 80 top names in UFC competition across five weight classes. Enter the Octagon surrounded by the sport's popular commentators, announces, referees, trainers, Octagon girls and more.
# Photorealistic Models & Effects: Experience the world of UFC as it appears on television with photorealistic fighters who breathe, sweat and move like their real-life counterparts. Players will also view amazing ripple effects across the faces and bodies of their fighters from the impact of devastating punches and kicks.
# Constant Control: Gain the upper hand in matchups with a brand new fighting game engine. Emphasis on innovative, responsive and easy-to-play controls gives you unparalleled command over your fighter in the Octagon.
# Fighting Disciplines: Take down opponents and get the submission with a variety of mixed martial arts disciplines, including Judo, Muay Thai, Wrestling, Kickboxing, Boxing, and Brazilian Jiu-Jitsu.
# Create-A-Fighter: Jumpstart the career of a future champion by customising your fighter's physical appearance, learning new fighting techniques to use in the Octagon and managing the training process through attributes such as strength and cardiovascular health.
# Career Mode: Develop attributes, perfect moves and fight for entry into the UFC Hall Of Fame.