Total Agenda - Perfection Combined With Fast Access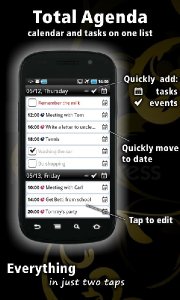 If you are worry that free apps which are usually not very comfortable to use, it won't happen with this one.
It's FREE but nearly without limitation that many times got us frustrated. Total Agenda is task manager app designed for Android smartphone devices. The app is very simple, both in design and menu. Seems it more concentrates on the app functionalities rather than rich graphic design. 
Once we download this free app, it sync automatically with your Android phones. We can also access Google Calendar,  Gtask and sync them in our smartphone easily. No paid cost, no software needed, no hidden fees. Its ad displayed on the centre bottom side of the app screen which sometimes bother us a bit. Yet, considering it's free, overall it's already been very good.
Total Agenda is perfect for busy people, it has very intuitive menu, simple tapping needed only to view our task. Fully sync with Google features, and It allows displaying your event and task on one list, making it possible to organize your time in the most efficient way.