Memory-Map Adventurer 2800 GPS
The finest GPS in its class?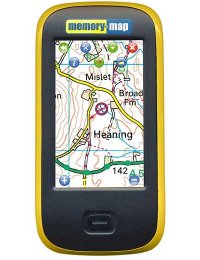 Retail Price:
£250
Release Date:
Hardware Category: GPS

Related Websites:
http://www.memory-map.co.uk/adventurer/index.html
http://www.memory-map.co.uk/supportforum/viewforum.php?f=34

Description:
The Memory-Map Adventurer 2800 consistently outperforms its rivals making it the only real choice for anyone wanting a GPS device to display real time positioning on detailed full colour topographic maps.

The Adventurer 2800 is ready to use straight from the box with selected British National Parks included on Ordnance Survey® Landranger® 1:50,000 mapping.

Also included with the Adventurer 2800 is 10,000km2 of Digital Map Shop credits allowing you to choose your own areas of mapping from anywhere in Great Britain.

Use the Adventurer 2800 with the maps included or with any maps from the Memory-Map V5 range.

The Adventurer 2800 is the only GPS unit which includes full PC software featuring Ordnance Survey mapping, enabling you to print maps, plan routes and transfer routes, tracks and waypoints to and from your PC.

You can also add further mapping from the entire Memory-Map collection, including historical mapping, aviation and marine charts, European mapping and maps from further afield.

A 50 channel high sensitivity GPS receiver ensures a fast lock as soon as the unit is switched on and the signal remains strong and clear even in built up and wooded areas.

The Adventurer 2800 features a full colour 2.8" touchscreen with high resolution for an incredibly vibrant and sharp display.

Weatherproof and rugged, the Adventurer weighs in at a featherweight 135g including the battery. It won't weigh you down whether you're walking out on the hill or riding trails.
Technical Specifications:
2.8" High resolution touchscreen
Fast lock high sensitivity GPS receiver
135g including battery
108mm x 56mm x 20mm
microSD card slot
Compatible with any Memory-Map V5 maps
2GB microSD card pre-loaded with OS landranger maps for selected British National Parks

Optional Accessories :

Additional Memory-Map maps from the V5 range
Turn-by-turn voice guided Sat Nav software
Bike Mount
Extended life battery
Hardware Requirements:
Windows PC
USB port
Software Requirements:
Windows