TomTom XL IQ Routes Edition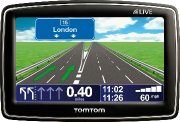 Retail Price:
£179.99
Release Date:
Hardware Category: GPS

Related Websites:
http://www.tomtom.com/

Description:
The TomTom XL IQ Routes Edition will get you there and back faster.

This new sat nav device contains TomTom's intelligent routing system based on real average road speeds (IQ Routes) and also Advanced Lane Guidance for navigating complex junctions - both of which have never been available on TomTom's lower priced sat navs before.

The XL comes in a matt black finish and has a 4.3" wide touchscreen display - perfect for those with larger hands whilst giving a wider view of the map.
Technical Specifications:

Hardware Requirements:

Software Requirements: