Page 1 of Play.com Loyalty Scheme (Superpoints)

Play.com Loyalty Scheme (Superpoints)
Jitendar Canth

(Reviewer)

posted this on

Thursday, 2nd August 2012, 17:50
They`ve instituted a loyalty scheme, spend a pound, save a penny. What you save can be spent on future purchases.

Accumulating points gives you more to spend obviously, and you can use them in part payment as well complete (should you accumulate enough)

You have to spend at least once every 180 days at Play to keep your tally of points active, otherwise they`ll be deleted.

http://www.play.com/superpoints.html
http://www.play.com/Helpdesk/SuperPoints_FAQ/SuperPoints_FAQ.aspx



===========================
Jitendar Canth

Quote:
"I thought what I`d do was, I`d pretend I was one of those deaf-mutes."

Site Reviewer at DVD Reviewer & MyReviewer

Carving out a niche with a pneumatic drill at Anime @ MyReviewer.com

RE: Play.com Loyalty Scheme (Superpoints)
admars

(Elite)

posted this on

Thursday, 2nd August 2012, 18:47
so as a reward scheme, if you buy from them regularly better than Nectar points.

However, these days, if price is the same there and Amazon, and buy from Amazon, as I know I`ll get the item within a couple of days with free p&p, Play are shockingly slow these days, although some of their Playtraders are excellent, and seem to ship the item as soon as you order it.

<a href="http://eu.playstation.com/psn/profile/admars/"><img src="http://mypsn.eu.playstation.com/psn/profile/admars.png" border="0" /></a>

RE: Play.com Loyalty Scheme (Superpoints)
Viewtiful Mark

(Elite)

posted this on

Thursday, 2nd August 2012, 19:29
Trouble is, Play don`t even sell anything any more. It`s all PlayTrader stuff. Rubbish.

RE: Play.com Loyalty Scheme (Superpoints)
Mark Oates

(Reviewer)

posted this on

Friday, 3rd August 2012, 02:43
Quote:
You have to spend at least once every 180 days at Play to keep your tally of points active, otherwise they`ll be deleted.These days I don`t seem to be spending anything at Play.  My preorders will only bring me about a quid`s worth of points (for the Indiana Jones and Universal Monsters boxsets) and £1 doesn`t go far at Play.

J Mark Oates

---
I`m Nuts, What`s Your Excuse?
sprockethole.myreviewer.com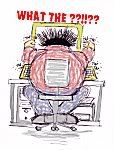 RE: Play.com Loyalty Scheme (Superpoints)
fcmcd

(Competent)

posted this on

Sunday, 7th October 2012, 12:59