Page 73 of The Trump Presidency

RE: The Trump Presidency
Pete-MK

(Elite Donator)

posted this on

Friday, 27th September 2019, 15:24
Aaand Trump's been recorded making thinly-veiled death threats against the whistleblower.

Quote:
"I want to know who's the person, who's the person who gave the whistleblower the information. Because that's close to a spy," the president said in private remarks to staff at the UN. The recording was provided to the Los Angeles Times.

In an apparent reference to the execution of spies by the US in the past, he adds: "You know what we used to do in the old days when we were smart? Right?"Firstly, what's all this 'we', Paleface? and secondly let's hope the witness (apparently a CIA operative) doesn't quail in the face of obvious intimidation.



============================
Writer`s Release

RE: The Trump Presidency
Pete-MK

(Elite Donator)

posted this on

Saturday, 28th September 2019, 16:03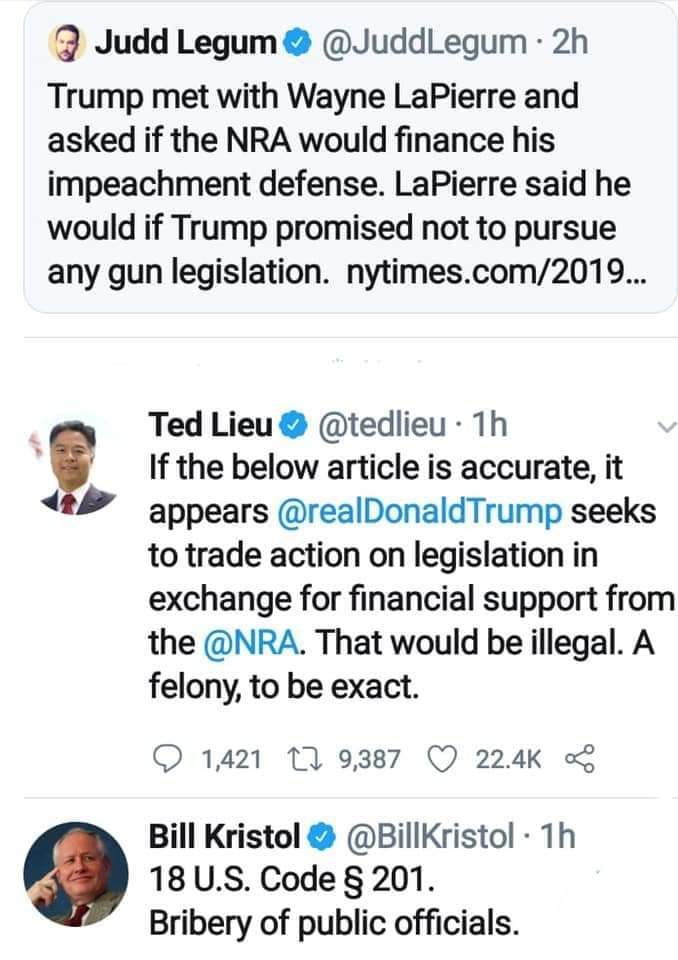 ============================
Writer`s Release

RE: The Trump Presidency
Si Wooldridge

(Reviewer)

posted this on

Thursday, 3rd October 2019, 18:18


Only because Trump is mentioned a couple of times...

---------

Si Wooldridge
Reviewer



http://synth.myreviewer.com

RE: The Trump Presidency
Pete-MK

(Elite Donator)

posted this on

Thursday, 3rd October 2019, 22:49
That was embarassing, for him and the audience. Not just the subject matter, other comedians would have handled the material better, he just wasn't funny.

============================
Writer`s Release

RE: The Trump Presidency
Jitendar Canth

(Reviewer)

posted this on

Sunday, 6th October 2019, 13:48

RE: The Trump Presidency
Si Wooldridge

(Reviewer)

posted this on

Sunday, 6th October 2019, 17:43
I'm still wondering where this will actually lead...

---------

Si Wooldridge
Reviewer



http://synth.myreviewer.com

RE: The Trump Presidency
Jitendar Canth

(Reviewer)

posted this on

Sunday, 6th October 2019, 18:19
Nowhere, except keeping Trump's character on the front page until the 2020 election.

===========================
Jitendar Canth

Quote:
"I thought what I`d do was, I`d pretend I was one of those deaf-mutes."

Site Reviewer at DVD Reviewer & MyReviewer

Carving out a niche with a pneumatic drill at Anime @ MyReviewer.com

RE: The Trump Presidency
Pete-MK

(Elite Donator)

posted this on

Sunday, 6th October 2019, 21:19
Quote:
Si Wooldridge says...
"I'm still wondering where this will actually lead...
"
Impeachment, leading to invoking of the 25th and removal from office for soliciting a foreign power to interfere with elections.


============================
Writer`s Release

RE: The Trump Presidency
Quote:
Pete-MK says...
"Impeachment, leading to invoking of the 25th and removal from office for soliciting a foreign power to interfere with elections."
Which won't happen, so it's a complete waste of time. Even if by some miracle they were able to find the votes in the senate, it would simply leave Mike Pence as President. This is hardly an upgrade.

Didn't we go through all of this with Russiagate? The democrats need to stop with these idiotic conspiracy theories and try presenting a viable candidate for the election in 2020 instead.


---

RE: The Trump Presidency
Pete-MK

(Elite Donator)

posted this on

Monday, 7th October 2019, 00:08
Quote:
Gareth Williams says...
" leave Mike Pence as President. This is hardly an upgrade. "Agreed, Pence is completely unfit to be president, which is why Trump chose him as VP. He won't even have time to warm the seat in the Oval office before the 25th is invoked again and Pelosi takes office, which she doesn't actually want, so will call an early election. Hopefully with Sanders not Biden in the driving seat



============================
Writer`s Release