Page 100 of The Trump Presidency

RE: [VIDEO] The Trump Presidency
Quote:
Si Wooldridge says...
"That is exactly what you've accused Trump supporters of being and sounds a tad defensive"
Can you show me where I am saying Trump will definitely lose, and Trump supporters are wrong? Just so I know what I've been wrongly saying.


Editor
MYREVIEWER.COM

My Flickr Photostream

RE: [VIDEO] The Trump Presidency
Si Wooldridge

(Reviewer)

posted this on

Monday, 27th July 2020, 14:47
Quote:
Robee J Shepherd says...
"Can you show me where I am saying Trump will definitely lose, and Trump supporters are wrong? Just so I know what I've been wrongly saying."
We're literally in a thread that essentially tells anyone who supports Trump how stupid he is and therefore by definition, so are they.

Do you think he will win?  I'll ask you outright.

---------

Si Wooldridge
Reviewer



http://synth.myreviewer.com

RE: [VIDEO] The Trump Presidency
Quote:
Si Wooldridge says...
"We're literally in a thread that essentially tells anyone who supports Trump how stupid he is and therefore by definition, so are they."
Words fail me.

Quote:
Si Wooldridge says...
"Do you think he will win? I'll ask you outright."
Like I have said numerous times... actually let me just quote myself from not that long ago...

Quote:
Robee J Shepherd says...
"The way things are going, it looks like Trump may not get re-elected. I mean we all hope he doesn't, whilst also none of us believing it's a certainty because we'll be so depressed in the morning..."
And let me explain that if it's not clear enough...

I hope he does not, I do not know if he will.

And if you can find any time since he got elected where I said anything different, I would love to see it. Or even when by slightly misreading what I said if I implied anything different.


Editor
MYREVIEWER.COM

My Flickr Photostream

RE: [VIDEO] The Trump Presidency
Si Wooldridge

(Reviewer)

posted this on

Monday, 27th July 2020, 15:34
Quote:
Robee J Shepherd says...
"Words fail me."
Not sure why, this is all anyone has used this thread for on the previous 99 pages.

Quote:
Robee J Shepherd says...
"And let me explain that if it's not clear enough...

I hope he does not, I do not know if he will."
Me too, but I'm more and more convinced he will...

---------

Si Wooldridge
Reviewer



http://synth.myreviewer.com

RE: [VIDEO] The Trump Presidency
Pete-MK

(Elite Donator)

posted this on

Wednesday, 29th July 2020, 19:03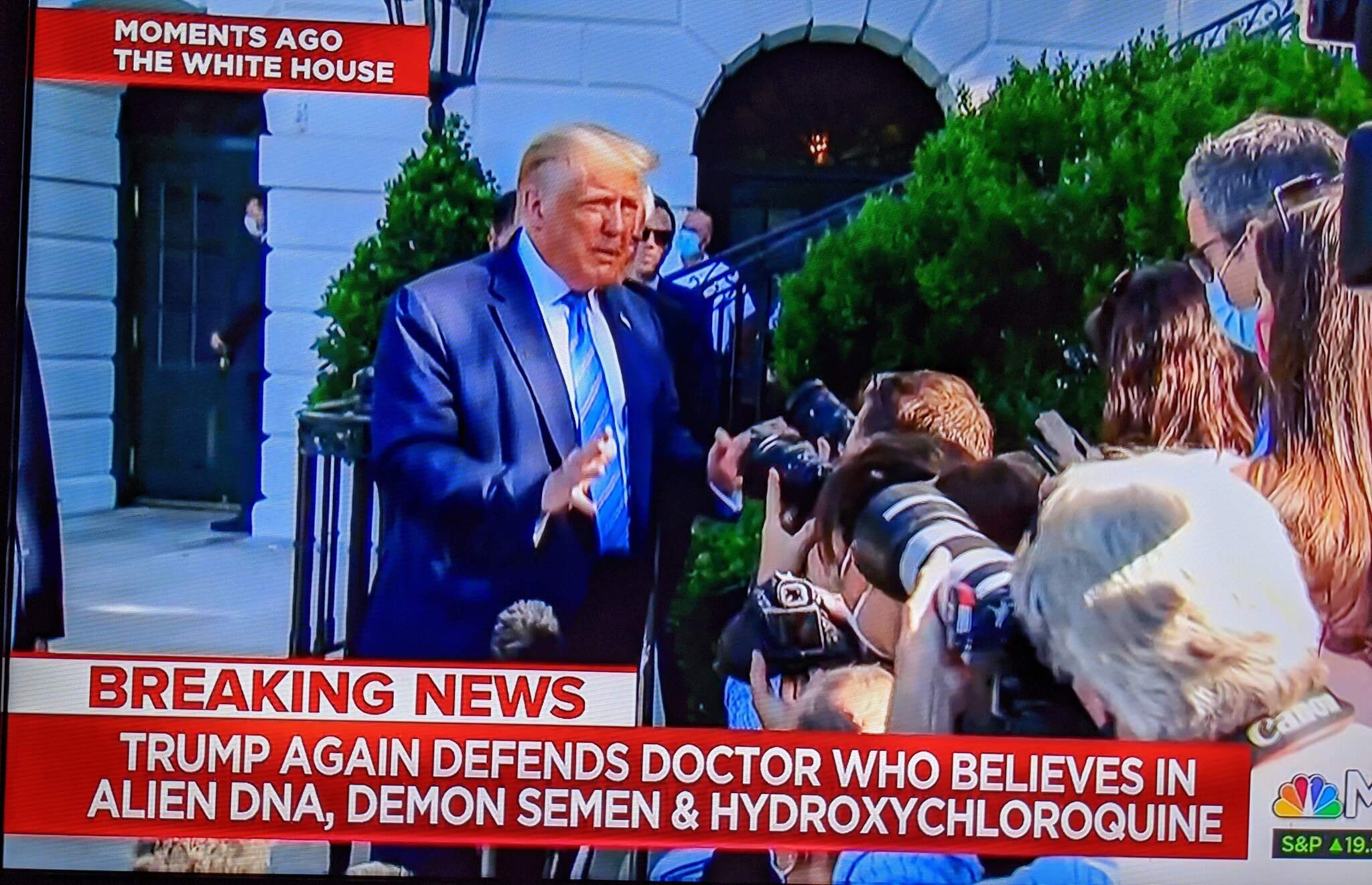 ============================
Writer`s Release

RE: [VIDEO] The Trump Presidency
In other poll news, apparently a worry for the Trump camp, which might give us some hope, is in the previous election a lot of liberal voters cast their votes for third party candidates because they couldn't bring themselves to vote for Hilary.

But because this time they less likely to do that, they will not split the anti-Trump vote as much. And apparently this is a significant number of votes, sometimes more than the Republicans actually got.


Editor
MYREVIEWER.COM

My Flickr Photostream

RE: [VIDEO] The Trump Presidency
Si Wooldridge

(Reviewer)

posted this on

Thursday, 30th July 2020, 07:01
Quote:
Robee J Shepherd says...
"In other poll news, apparently a worry for the Trump camp, which might give us some hope, is in the previous election a lot of liberal voters cast their votes for third party candidates because they couldn't bring themselves to vote for Hilary."
I guess that will depend on how many votes are offset by the #WalkAway campaign, which appears also to be gaining traction...

---------

Si Wooldridge
Reviewer



http://synth.myreviewer.com

RE: [VIDEO] The Trump Presidency
Looks like that campaign may be Russian influenced... but then as I've said before, Russia's goal is always to just stir up division and not particularly to favour a specific side, although a side affect is often that is what happens.


Editor
MYREVIEWER.COM

My Flickr Photostream

RE: [VIDEO] The Trump Presidency
Si Wooldridge

(Reviewer)

posted this on

Thursday, 30th July 2020, 10:10
Quote:
Robee J Shepherd says...
"Looks like that campaign may be Russian influenced... "
Really?  It can't just be that former Democrat voters have had a damascene conversion?  Everything negative has to be Russian influenced?

Have you watched any of the videos of these people explaining why they have decided to #WalkAway?

---------

Si Wooldridge
Reviewer



http://synth.myreviewer.com

[VIDEO] RE:The Trump Presidency
alfie noakes

(Elite)

posted this on

Thursday, 30th July 2020, 11:35
Quote:
Si Wooldridge says...
"Really?  It can't just be that former Democrat voters have had a damascene conversion?  Everything negative has to be Russian influenced?

Have you watched any of the videos of these people explaining why they have decided to #WalkAway?"
I'm guessing you haven't' seen The Great Hack.


To think that a 'walkaway' campaign is a legitimate position is utterly laughable. There will definitely be bad actors behind it, whether it be Russia or whoever. It may look genuine and heartfelt but people are simply being manipulated into doing exactly what the GOP want: get people not to vote cos higher vote numbers always hurts Republicans