Lesbian Vampire Killers
On Friday I was wondering whether to go to the cinema or not so checked the listings for our local Cineworld. The only thing starting at a time to suit was Lesbian Vampire Killers. Sounds a silly title and the sort of B movie trash that I occasionally enjoy I thought. Knowing nothing at all about the film, and I mean nothing - I hadn't seen the trailer, didn't know who was in it or who wrote or directed the film - so went in with a completely open mind.

It didn't take long to figure out that this was not a B movie, more a C or D movie, perhaps even moving further on through the alphabet, and when I returned home I found out that the two male stars, Matthew Horne and James Corden, are well known and generally liked TV stars for their work in Gavin and Stacey though they apparently have their own comedy show on one of the minor BBC channels at present.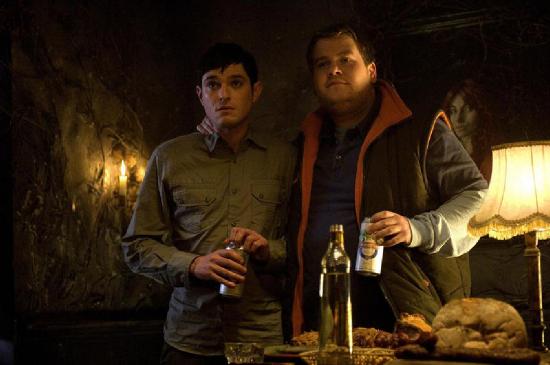 The story, or what there is of it, sees Horne's Jimmy talked into a holiday by his loud mouthed friend Fletch and, being skint, Jimmy opts for a hiking holiday wherever the dart lands on the pub wall's map. So off they go to Cragwitch in Norfolk where they walk into a pub straight out of An American Werewolf in London, are provided with free drinks and given directions to a cottage in the woods to spend the night, also gratis. Also heading to the same cottage are a group of attractive female Swedish students who bizarrely converse among themselves in English. A brief prologue has set up the myth of Carmilla, a lesbian vampire who preys on girls once they turn 18, but was slain by a knight and is waiting to be reborn.

Once in the cottage, Fletch becomes increasingly horny and tries to convince Jimmy to get over his girlfriend by moving on with some nubile Scandinavian. However, the spectral Carmilla arrives along with an army of lesbian vampires who begin attacking and killing the group leaving Jimmy, Fletch and Lotte (MyAnna Buring) to fight them off with the help of the local priest (Paul McGann).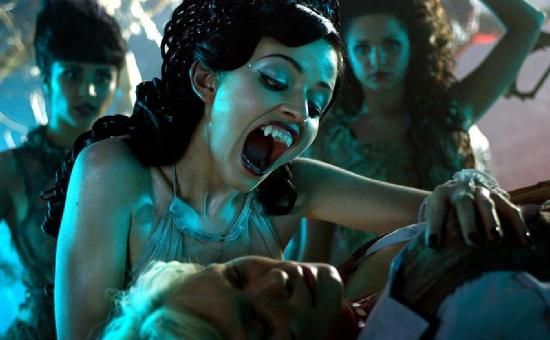 British cinema really reached its nadir in 2004 with Andy Humphries abysmal Sex Lives of the Potato Men and Lesbian Vampire Killers has just about failed to reach those depths. It is a terrible film, not as crass, offensive and puerile as Sex Lives ... but is a truly awful offering. I spent the whole film thinking that this was something inspired by Shaun of the Dead with the two leads trying to mimic Simon Pegg and Nick Frost but, for a horror/comedy, it is neither scary nor funny. The best films in this genre are both, think Evil Dead, the aforementioned American Werewolf... and Shaun of the Dead - but this neither makes you jump nor laugh. It has that vaguely misogynistic and homophobic tone that will no doubt appeal to readers of FHM/Nuts/Loaded and is oddly a visually striking film, seemingly with more time spent on the aesthetics than the script.

It's just completely stupid and devoid of any entertainment value, so don't waste your time or money and give this a wide berth. The title is vaguely amusing which is more than I can say for the content of the movie - I haven't seen Horne and Corden in anything else and, judging by this, don't intend to!