Columbo - Prescription: Murder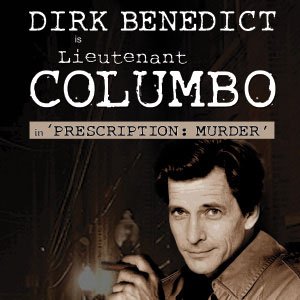 Columbo - Prescription: Murder
There have been many telly sleuths in both print on both silver and TV screens, although very few are as held in universal acclaim as Columbo, a part that Peter Falk really made his own. One of the keys to this success, outside Falk's astonishing performances, is the fact that there is no mystery over the killer as the murder is shown first and therefore the entertainment is in the cat and mouse game between killer and sleuth.
Prescription: Murder was the original 1968 TV pilot for the eventual NBC Movie of the Week series that brought Peter Falk to the screen as Columbo, but was previously an episode in an earlier TV show in 1960 and then adapted into a play two years later prior to this pilot with two other actors filling Falk's shoes before Falk's definitive performance. It is therefore easy to see why this particular Columbo story has been revived for this UK national tour.
The story for Prescription: Murder is simple one. Psychiatrist Roy Fleming (Patrick Ryecart) is having an affair with a young and beautiful actress (Elizabeth Lowe) while still professing love for his wife (Karen Drury). Fleming feels trapped in his loveless marriage after twice asking for and being refused a divorce. The convoluted murder plot includes his younger lover impersonating his wife on their flight to an anniversary holiday before invoking an argument and storming off the plane, whilst the wife is already lying dead in their apartment. Thus the psychiatrist believes himself to have set up a perfect alibi for the murder, although he clearly never counted on the bumbling tenaciousness of Lieutenant Columbo…
Now it's all very well deciding to put on a stage play of one of the most famous sleuths in the world, but you need be extremely careful in your casting in order to meet the expectations of your audience. People are very used, for example, of many different actors playing Sherlock Holmes but there's only been Peter Falk as reference material to live up to with Columbo. The choice here is Dirk Benedict in the title role, unable to get a promotion as yet from his time as Lieutenant Starbuck in the original Battlestar Galactica and Lieutenant Templeton Peck aka Faceman in The A-Team. Other than Starbuck's love of cigars (Hannibal took that away from him in The A-Team), it's initially quite hard to see how Benedict could fit into Falk's shoes but the truth is that he does so surprisingly well, so much so that they're pretty much a snug fit. First impressions count for a lot and the Columbo 'uniform' of mac and ill-fitting grey suit is spot on. Not only that but Benedict has the mannerisms and accent off-pat, it's impressive acting overall with some laughs from the usual Columbo asides and virtually a cheer when that well-worn catchphrase "Just one more thing…" is finally aired.
Bearing in mind the format of Columbo where some time elapses prior to the appearance of the super-sleuth, you need a strong cast and a particularly strong villain in order to hold your attention. Patrick Ryecart as Doctor Fleming does this particularly well and is a strong well-known British actor with a long career in TV and film that stretches back to 1975. Ryecart holds the attention of the audience well as he should due to being on stage for about 95% of the time. Ryecart is joined by an unrecognisable ex-Brookside stalwart Karen Drury as Fleming's wife and Elizabeth Lowe as the younger lover. George Telfer and Karren Winchester also appear in minor roles as a District Attorney and Fleming's receptionist respectively. The acting is consistently good with only the faux American accents being mildly irritating, I was almost wishing that they'd followed the Wallender example of having everyone speak English. I suspect that would have worked better but still, it didn't spoil it too much.
The sets were well dressed, all two and a half of them, and considering the loose props on the stage, the delays between scenes was impressively quick. Also surprising and pleasing was just how long the whole thing lasted. At Darlington Civic Theatre the show started at 7.30 and with two intervals that lasted probably a total of 20 minutes, it was still just before 10 o'clock that it finished. It was just a shame that with a midweek performance there weren't too many people there to see it.
This is a national tour but only Truro and Plymouth left to host this, so if you get the chance don't hesitate. On the other hand, with Peter Falk unable to reprise his role there is now another option and despite my reservations about re-booting most things, I wouldn't be averse to seeing Dirk Benedict on my TV screen in new outings for Columbo…