The Headliners
This year's Isle of Wight Festival seemed unusual to me, in that the tickets only sold out a week before the event, the headline acts where announced in dribs and drabs over a long period of time, and the final act was someone who most of my generation and below have only really read tiny things about. Despite threats of bad weather forecasts prior to the actual event, the sun even came out, clouds where rarely very heavy, and if any specs did fall they were short lived and hard to even notice.



Sneaky Sound System
Kicking off the festival on the main stage, where what Wikepedia describes as an Australian dance music group. Think sample based feel good tracks with a strong feminine vocal element and you might get the idea. Perhaps their best reception came from a cover of the Eurythmics hit Sweet Dreams, which oddly sounded like the original including Annie Lennox's voice, with lead singer Connie Mitchell singing karaoke style over the top. Anyway, for the first act of the first day, a good fun way to start the weekend.
Iglu & Hartly
This American rock, white rap group confusingly go by the icon of an ampersand, try googling that if it's all you have to go on. Amidst a rather unhealthy obsession with a large inflatable winkle, they do keep the crowd happy and maintain the sense of fun that the first act got going.
Nothing overly memorable about their music, but an entertaining live act at a festival, where their limited time is well used.
The Ting Tings
Now, I'm a big fan of this duo, having seen them live at The Forum last year. Their full set back then really suited the venue size, was excellently paced and any time period which features a sample, however short, from Ghostbusters gets my vote.
With fourth from headline billing, the time they had at Seaclose Park was limited in comparison, yet they still managed to nicely extend some of their hits. The usual crowd please rs where accompanied not just by the drums, triggered samples and occasional guitar and vocals of both Jules De Martino and Katie White, but also up to four backing musicians in multi-coloured wigs.
Not the greatest performance from them, but still very good fun.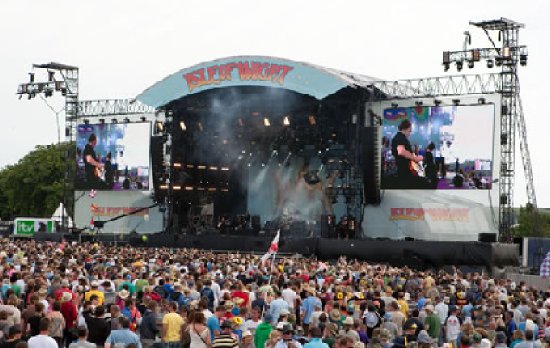 Pendulum
At this point, things suddenly got more hardcore with the British based Australian group. If I had to label this lot, it would include such genres as heavy rock, drum and bass, electronic dance, indie rock and white rap, often all at the same time.
The first real eye opener of the festival for me, the sheer power and energy, combined with the sort of music that is best played loud, with your fists pumping, head shaking, and body jumping. An excellent set, perfectly paced, left everyone not only appreciative but very warmed up for the final two acts of the day which followed.
Basement Jaxx
Accompanied by three female and one male vocalist of varying sizes, the dance music duo of Simon Ratcliffe and Felix Buxton kick out hit after hit, culminating in Where's Your Head At. All very smooth and slick, crowd enjoys it, the singers certainly enjoy it, hard to tell if the actual duo themselves are, but who cares, the rest of us are having enough fun to go around.
Very solid set, people feel lucky that the effective warm up act for the headline act is one that could have led it themselves. I personally begin to wonder if I have the energy for anymore dancing, and I'm probably not alone.
The Prodigy
And then they come on, with all the anger, energy and volume you expect from Liam Howlett, Keith Flint and Maxim Reality. With an early appearance of Breathe, followed by the likes of Firestarter and Smack My Bitch Up, they end on the classic Out of Space.
Maxim goes on about how we are all his warrior people rather a bit too much, but like Flint he understands the theatrics of it all, and knows how to pull the right faces whenever the camera is on him. Talking of Flint, his possibly trade-markable dance moves add to the energy of it all, as does the lighting. It's hard to believe that these guys are older than I am.
I was around when raving first took off in the UK, although I was never part of the culture back then. However 60,000 people dancing and jumping up and down to classic dance tracks like these are probably as close as anybody is going to get to those days.
Everyone goes home from the first day somewhat tired, but extremely happy.
Maximo Park
After so much activity the night before, I chose to arrive for the last three acts rather than see them all. Not much screamed out as being a must see, so this UK indie were the first thing I saw come the Saturday line up. A very good performance, good indie rock band, but alas for me they just seem in a very similar mould to Razorlight but without any of the memorable hits.
Razorlight
Talking of Razorlight, they followed and made me realise I clearly hadn't been keeping up with current events. Not only has lead singer Johnny Borrell cut his locks off, he managed an entire set without taking his top off. Quite a contrast from the time I saw them live in Hyde Park a few years earlier.
Whilst not outstanding, this lot were as solid as ever, a very reliable live group who get the best response to their most famous hits of Somewhere Else and of course America. Borrell certainly seems to understand how to work a crowd, now thankfully without exposing his chest all the time.
Stereophonics
If Friday was an evening of dance, then Saturday was definitely all about British rock, so who better to end it on than a Welsh four piece outfit containing the traditional guitars and drums combo. Now when you have been around as long as the 'phonics, had as many hits as they have, there is sometimes a tendency to mix up your greatest hits with new stuff from a forthcoming or current album you might somehow see as superior.
But they don't, they know what the audience wants, and boy do they deliver them with the power, energy, lighting and performance. Some groups sound like they can only really attain their sound in a studio, Kelly Jones, Richard Jones, Javier Weyler and Adam Zindani manage to stick not only faithfully to their studio sound, but also add that extra something which only hearing them live gives you.
Quite simply brilliant, but then with tracks like The Bartender and the Thief, Just Looking, Have a Nice Day, Maybe Tomorrow, Handbags and Gladrags in your arsenal, who could expect anything less. Finishing on Dakota was a smart choice, and an excellent end to another good day in Newport.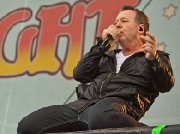 Simple Minds
Back to the eighties we go with the third from final act of the main stage on the Sunday. The Scottish pop rockers start with something familiar, covering Don't You and ending on Alive and Kicking. Jim Kerr is perhaps somewhat too demanding with the requests to clap, but is forgiven simply for the hand waving he gets going on the final track.
Like a lot of bands from the 80s, their biggest single hits are very catchy, but most of the rest that came from their albums is easily forgotten.
Pixies
Only song of theirs I know, is Where is My Mind? which most will recognise as that tune from the end of Fight Club. Much described in the press as an influential band that never saw mainstream success, the alternative rock outfit seemed very thankful to be on stage.
A fun way to while away an hour, but their most famous song aside, I really did wonder what the fuss was about. Perhaps they did kick off the whole indie rock scene of the early 90s, many other bands do seem to cite them as an influence, but as a live act they didn't really seem to deserve their position on the bill.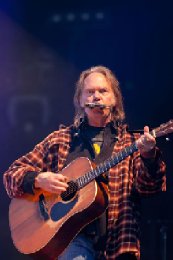 Neil Young
After the disappointment of the Pixies, we get to the closing act of the whole festival. Now my knowledge of Neil Young is pretty poor, it merely extends to the following list of things. A good friend of mine rates him as his favourite artist of all time, but our tastes in music don't cross too heavily so that says little to me. Young has apparently released an album every year since 1966, was born in Canada, has strong left wing political views and doesn't care who knows it.
So not knowing what to expect, I watch as a very uninspiring rig appears slowly on stage, along with what look like the oldest stage equipment I think I've ever seen. This is quite a shock after all the shiny new stuff we've been used to over the last few days.
Some of it looks like old amps which are so brown and aged, they could well be from the 60s, having long since lost any manufacturers labels. And then Young comes on stage, playing acoustic guitar and a mouth organ, he does a pleasant enough track, probably about war, I can't really remember. Then he dumps the mouth organ, plays another gentle track, does a further one alone on an ancient organ.
Now joined by the rest of his band, he does one final acoustic number, and I have to confess at this point that I'm pleasantly enjoying it all but really unsure as to why this really old looking guy in gingham plaid shirt is the final and biggest act at this festival, let alone the other two (maybe more) he is also appearing at this summer.
And then he puts down the acoustic and picks up the electric guitar, after which point the entire crowd becomes part of a moment. Those who study popular music history to any sort of degree will be aware of the moment Bob Dylan went electric for the first time at a live concert, the Newport Folk Festival, this being in America. During the headline of that festival, many fans booed the artist when he switched, yet here in another Newport far away in both place and time, the reaction was different.
Young began a track called Hey Hey, My My (Into The Black), and proceeded to produce the most amazing guitar rock I think I have ever heard. From there on in, it was a performance that sent shivers down the spine, as a 63 year old man gave us one blazing guitar solo after another, and pretty much showed anybody that might even be remotely unsure, what the hell rock and roll was about.
He ended the main set with what can only be described as an epic rendition of Rockin' In The Free World, which every time it appeared to be ending, threw us all back into the chorus, time after time, and everyone loved every second of it. The encore finished with a cover of Beatles track A Day In The Life, during the finale of which he broke all the strings of his guitar, and walked off, leaving everyone wanting more.
Alas all we got was a nice tune over the sound system, synchronised to a really decent fireworks display. A poor second best, but only because Young was so good.
Final Thoughts
For atmosphere, friendliness, organisation and artist line up, this year was an excellent one over on the Isle of Wight. Sure, commercialism has become an important part of the festival, but it never crossed the line of being too intrusive. Yes, whoever directed the video screens often picked a shot of no relevance or interest, which might have annoyed anyone who couldn't see the stage, but that is a minor niggle.
This could be a hard act to follow for next year, but I wish them every luck, especially as I hope to be there again.