Sham-rock on St. Patrick's Day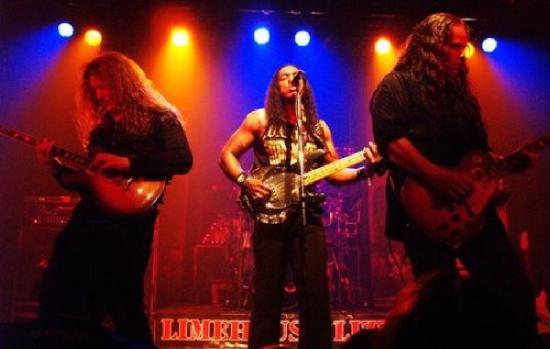 The best of Irish rock'n'roll was the overall headliner on St. Patrick's Day at the Ulster Hall, as Limehouse Lizzy, The Willie Byrne Band, and Sinnerboy paid tribute to their respective idols Thin Lizzy and Rory Gallagher on Tuesday.
It was an interesting just-spent-eight-hours-in-the-pub atmosphere at the newly-refurbished venue - which dates back 1862 and once played host to the first ever live performance of "Stairway To Heaven" - but that didn't stop any of the performers getting really into their sets, across what was a total of 2½ hours of music.
First on stage were Limehouse Lizzy, who not only warmed up just prior to 8pm with Thin Lizzy's own favourite warm-up tune "Southbound", but also managed to capture the sound of Phil Lynott's band even more closely than the currently touring Thin Lizzy, which features Scott Gorham and John Sykes. Bass player and vocalist Wayne Ellis may claim that he is no impressionist, but he has clearly endeavoured deliver vocals in Lynott's manner, not to mention play bass with the same style.
The band gloriously ripped through several Lizzy classics, including "Jailbreak", "Waiting For An Alibi", "Rosalie", and the omnipresent "The Boys Are Back In Town", before it was time for The Willie Byrne Band to take the stage, in tribute to the late, great, Rory Gallagher, who would have turned 61 just two weeks previously.
Byrne - often noted locally as the best guitar player in Ireland - had his set impinged on by time, but he was still able to open up with a blistering rendition of "Messin' With The Kid", throw in a little deeper blues in the middle, and finish with an equally stunning version of fan-favourite "Shadow Play".
Last on stage was Sinnerboy, the band often referred to as the greatest Rory Gallagher tribute act. Like Byrne, lead singer and guitarist Barry Barnes may make no effort to look like Gallagher, but he certainly channels his music, as was proven here on tracks like "Moonchild", "A Million Miles Away" (featuring vocals from the entire Ulster Hall", and "Bullfrog Blues" (a traditional track rearranged by Gallagher). Mid-set there was even a little acoustic breakdown, showcasing Rory's love of that brand of blues, too.
Overall, it was a quite fantastic night of music in Belfast, with the only criticisms after the show being that the party didn't go on, all night long.