Review of Suzuka: Volume 1
Introduction
The romantic comedy is a common genre, and not only in anime. It`s a tough one to get right though, and it is really best suited to the 90 minute timeframe. A romantic comedy is never about the romance, it`s about getting two people together, and leaving the happily ever after for the end credits. With a 26 episode series, the will they won`t they question can become tedious, and postponed with episodes of filler. If you know what you are getting into, then you can appreciate shows like Love Hina and Ah My Goddess, otherwise you`re left wondering why the girl keeps on dithering, and why the guy is a wet fish. Once you start getting into the actual dynamics of the relationship, then comedy turns to angst, as the ups and downs of falling in love and staying together begin to take their toll on the characters, and while shows like Rumbling Hearts are excellent dramas, they certainly aren`t rom-coms. I suppose the holy grail of the rom-com is to find a show where the central relationship actually advances, while holding on to the sense of humour. It seems impossible, but then Suzuka falls across my desk. By Jove, I think they`ve cracked it!
Yamato Akitsuki is about to start High School, and to highlight the significant change in his life, he`s decided to leave Hiroshima and head for the big city, Tokyo. The only way he can get away with this is if he lives with his aunt at her apartment complex. Aunt Ayano runs a girls` dormitory for high school and college students, renowned for its complex of baths, and Yamato will have to earn his room and board by acting as cleaner cum handyman. So far so Love Hina, but it`s when he encounters athlete Suzuka Asahina that his life changes. He`s entranced by the graceful high jumper; she thinks he`s a dork. It`s a match made in bedlam.
The first five episodes of Suzuka are presented on this disc from Revelation.
1. Anticipation
It`s a rainy day when Yamato arrives in Tokyo, and as he is heading for his aunt`s boarding house, he`s stunned when he sees a girl practicing diligently for the high jump. It`s one of those `time slows down` perfect moments, and Yamato is smitten. Thinking he`ll never see her again, he moves into his new home, and is immediately set to work cleaning the baths. He`s not fast enough as a worker, and he`s not finished by the time a couple of college girls turn up looking to relax. One thing leads to another and he ends up in an embarrassing clinch, which is when the girl of his dreams walks in. It`s a hell of a first impression. Finally getting the chance to go to his room, he gets the numbers mixed up, and walks in on her again. The second impression is even worse, and Suzuka Asahina lives next door to him. Can he redeem his character?
2. Smile
Just when Yamato thinks that he may be getting somewhere with Suzuka, his `best friend` Yasanobu shows up. Yasanobu has been hanging around Yamato for years, ever since he realised he could blackmail Yamato into sneaking into the girl`s baths for a peek. Consequently all the girls think Yasanobu is an angel, and Yamato a perv. True to form, Yasanobu`s presence sours Suzuka`s impression of Yamato, and when Aunt Ayano announces they`ll be having a party to celebrate the first day of high school, and that Suzuka and Yamato have to go shopping together, it doesn`t look to be a fun day in store for either of them.
3. Sick Day
It`s the 1st day of high school, and Yamato is feeling a little isolated. Yasanobu has his friends, and even though he`s in the same class as Suzuka, she`s already found fellow athletes to hang with. Then a girl named Honoka Sakurai says hello. She knows Yamato, but he can`t remember her. Seeing them chatting gives Suzuka pause. She was going to ask for Yamato`s help in getting some sports drinks for the Athletics Club, but he looks like he has found a new friend. Still, Yamato wants to help her, and winds up waiting in the cold outside school for five hours, because he didn`t know where to meet her. It`s a recipe for sickness.
4. Field Day
It`s try-outs for the athletics team, and Yamato is feeling pretty proud of himself. He was top in every event but one at his junior school, and he reckons he can impress Suzuka with his prowess. He`s forgotten that he`s in a Sports Academy now, and everyone in the athletics team has natural talent and years of training. He`s downhearted by his mundanity, but he has one chance to succeed, although it`s in his weakest discipline. If he can make it, he`ll get to share an umbrella with her on the way home.
5. Eye Of The Storm
Yamato definitely has feelings for Suzuka, but what can he do that won`t damage their friendship? It may be too late, as he sees her with a new male friend, and she starts acting distant again. He just doesn`t understand women, and he`s even left asking Yasanobu for advice, drowning his sorrows in karaoke, and consulting horoscopes, just to figure out what Suzuka is feeling. Yasanobu comes up with the best advice, "ask her you wimp!" and the perfect opportunity arises during a scary thunderstorm and a power cut.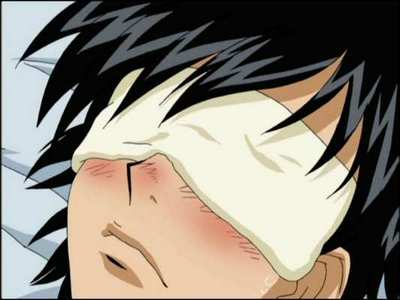 Video
Suzuka gets an unproblematic 4:3 transfer. That`s with the exception as usual of the credit sequences. The credit sequences are usually re-edited with English text, and that process degrades the image somewhat, resulting in significant aliasing. The clean credit sequences of course have none of that, but it does contrast against the main animation quite obviously.
The animation itself is dynamic but fair, the character designs are very pleasant, and the backgrounds are simple but effective. This is a show that really doesn`t need the bells and whistles, and does perfectly well without them. The pastel palette, and the lighter feel, all contribute to a generally pleasant atmosphere and the show does very well in that respect.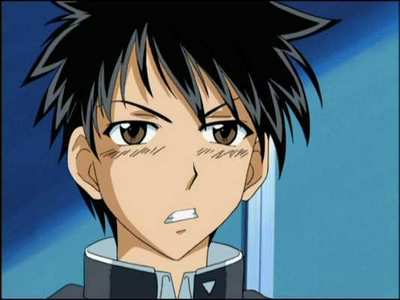 Audio
You get a choice of DD 2.0 English and Japanese, accompanied with translated English subtitles and a signs track. This isn`t an action led show, and the dialogue is clear throughout, so the stereo track is called on to do little more than establish some atmosphere and music. I tried a little English and the dub is up to the usual high standard of Funimation dubs, but my perennial bugbear of teenaged girls apparently voiced by mature women is apparent here with the English voice actress of Suzuka. Your mileage will differ depending on how you like your dubs.
Incidentally, this is one of those dubs where the theme tunes are re-recorded with English lyrics. I haven`t seen that in a while, but it`s a pleasant addition. I did notice a couple of minor errors in the subtitles (a t missing from `started`), but they were rare mistakes.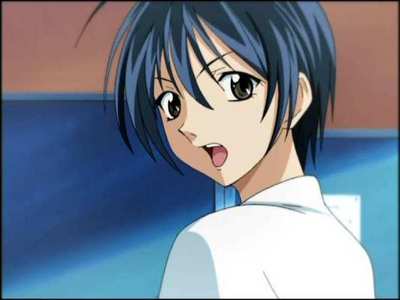 Features
The usual anime extra features show up here. There is a nice reversible sleeve for the Amaray case, offering you a choice of cover art. The disc itself has the typical jacket picture, textless songs and trailers (in this case for Negima and Beck). The Aoba High School Yearbook is a 1-minute slideshow of stills from the show. And that`s your lot.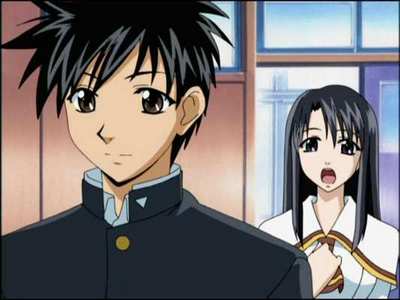 Conclusion
One volume and I`m hooked! I love it when that happens. The initial premise of a boy coming to the big city to go to high school, and having to live at his aunt`s dormitory/bath house is seriously similar to Love Hina, and when Yamato was accosted by a naked college girl (who`s fond of her drinks), visions of Kitsune sprung to mind, and I had a slight sinking feeling. Not that there`s anything wrong with Love Hina, but a common complaint about anime rom-coms is that nothing happens. The protagonists hover around each other on the verge of confessing their feelings for 26 episodes, and just when they get to the vital doki-doki (heartbeats) moment, it`s all left for a sequel, or an OVA special. The rest of the runtime is devoted to zany comedy, farce and filler.
Suzuka is remarkably absent of this, yet manages to remain funny and entertaining. While Yamato may be the typical wimp male at first glance, he turns out to be a little more focussed. There`s not much dithering when it comes to what he wants. He`s smitten with Suzuka the first time he sees her, and getting to know her he realises that he is developing feelings by the end of the second episode. There`s none of the `who should I be with?` nonsense, even with the traditional harem setup of a sole male in a female dorm. Suzuka is on his mind pretty much from the outset, and getting closer to her is plainly what he wants, even though he`s unsure of how to go about it. Suzuka on the other hand is certainly not the perfect woman, nor is she the powerful Amazon figure that can get men to melt by sheer force of her personality. She`s written with a degree more realism, she`s obviously good at athletics, and has made it to this prestigious school on the strength of that. She`s forthright and self-confident too, to the point of having an abrasive personality, but when it comes to her personal life she is a little more uncertain. It seems she`s been burned in the past, a photograph of a mentor (who looks suspiciously like Yamato) attests to that, and she wavers in her feelings towards Yamato as a result, friendly one minute, and aloof the next, but gradually as she realises her own feelings, she lets herself get closer to him.
There isn`t any angst, despite these emotional upheavals. The show manages to let the relationship grow while keeping a light and playful air, and with one eye on the comedy. The supporting cast helps carry the zaniness quotient. Yasanobu is the typical lecherous friend, Honoko is the `rival` to Suzuka for Yamato`s affections, and who quickly develops a crush on him. The college girls Saotome and Megumi supply the drunken antics, and occasionally proposition Yamato at inappropriate times, prompting red faces and apologies. And all the while Suzuka and Yamato`s relationship maintains a forward momentum. I wouldn`t be surprised if it goes all the way to wedding bells, and even relationship counselling by the end of the series.
An anime romantic comedy that actually develops the relationship is a rare thing indeed. But the first volume of Suzuka looks very promising in that respect. It doesn`t hurt that the main characters are rounded, well written and realistic in what they go through. This is one series that you can buy without hesitation. Fervently recommended!