Karas: The Revelation (UK)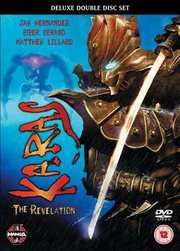 Tokyo - a city populated by both humans and by ghostly beings
Certificate: 15
Running Time: 85 mins
Retail Price: £19.99
Release Date:
Content Type: Movie
Synopsis:
The worlds of humans and demons have overlapped since time immemorial and a young woman named Yurine and her servant, Karas, have long maintained order and balance between the worlds. But humans have finally lost their fears of the denizens of darkness. Disgusted by human arrogance, Karas turns his back on the laws he helped uphold for so long, taking the name Eko and leading a group of mechanized demons in an attack against the human race.

Meanwhile, a detective named Kure, who works at the police division in charge of demon-related incidents, opens a case involving a series of bizarre murders that look like the work of a water demon. Elsewhere, the demon Nue, who came to town to fight Eko, spots a water demon disguised as a famous warrior just as Yurine shows up with a new Karas. This new guardian of the city is determined to stop Eko`s evil ambitions, but he has a fierce fight ahead of him.

Completing the epic edge-or-your-seat narrative set up in Karas: The Prophecy in breathtaking style, Karas: The Revelation is essential viewing for anime fans everywhere.

As with its predecessor, this visually impressive anime adventure boasts an innovative hybrid of 2-D and 3-D CGI animation techniques, and features a soaring and emotive orchestral score performed by the Prague Philharmonic Orchestra, making Karas: The Revelation a cinematic sci-fi epic that takes anime production standards to a whole new level.
Special Features:
In The Voiceover Booth
Rough Cut Excerpt
Trailer
Gallery

Video Tracks:
Widescreen Anamorphic 1.78:1

Audio Tracks:
Dolby Digital 5.1 English
Dolby Digital Stereo 2.0 Japanese
DTS 5.1 English
Dolby Digital 5.1 Japanese
Dolby Digital Stereo 2.0 English
DTS 5.1 Japanese

Subtitle Tracks:
English

Directed By:
Akira Takata

Written By:
Shin Yoshida
Masaya Honda

Starring:
Steve Staley
Piper Perabo
Matthew Lillard
Jay Hernandez

Music From:
Yoshihiro Ike

Editor:
Hiroshi Okuda

Producer:
Shoichi Yoshida
Takaya Ibira

Distributor:
Manga Entertainment Ltd