Urusei Yatsura: Movie 6 - Always My Darling (UK)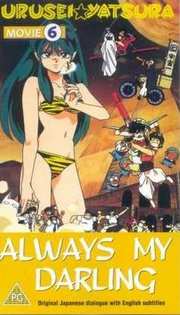 A love potion, by any other name, would taste as awful.
Certificate: PG
Running Time: 78 mins
Retail Price: £14.99
Release Date:
Content Type: TV Series
Synopsis:
Lupica, another one of the legion of space princesses who all seem to have found out about Earth in some tour book, appears and abducts Ataru. Needless to say, Lum, assisted by her friends Oyuki and Benten, gives chase. Also needless to say, Lupica isn`t after Ataru for his great looks or charming personality (because he doesn`t have either!).

Lupica`s goal, you see, is the greatest love-potion in the galaxy, which she intends to use to induce her sweetheart to tie the knot. To get it she needs the possessor of the greatest lust in the universe. Now you know why she needs Ataru Moroboshi!

`Urusei Yatsura 6: Always My Darling`. Insanity, Japanese style!
Special Features:


Video Tracks:
Pan & Scan 1.33:1

Audio Tracks:
Dolby Digital Stereo 2.0 Japanese

Subtitle Tracks:
English

Directed By:
Katsuhisa Yamada

Written By:
Hideo Takayashiki
Rumiko Takahashi
Tomoko Konparu

Starring:
Noriko Ohara
Shinnosuke Furumoto
Naoko Matsui
Toshio Furukawa
Fumi Hirano

Music From:
Mitsuru Kotaki

Editor:
Chieko Takayama

Producer:
Yoko Matsushita

Executive Producer:
Hidenori Taga

Distributor:
MVM