Aki Kaurismaki Collection: Vol. 1 (UK)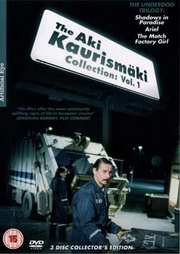 3 Disc Collector`s Edition
Certificate: 15
Running Time: 207 mins
Retail Price: £29.99
Release Date:
Content Type: Movie
Synopsis:
Cult Finnish filmmaker Aki Kaurismaki is internationally renowned for his distinctively spare and deadpan character studies of society`s also-rans. This three-disc set contains his acclaimed "Underdog Trilogy", which finds Kaurismaki at the height of his sardonic humanist powers.

Shadows In Paradise
Kaurismäki regulars Matti Pellonpää and Kati Outinen star in this offbeat yet remarkably touching romantic comedy. Pellonpää plays Nikander, a rubbish collector and would-be entrepreneur who finds his plans for success dashed with the unexpected death of his business associate. Whilst searching for a job, he meets Ilona (Outinen) a down-on-her-luck cashier in a local supermarket and, falteringly, a bond begins to develop between them.

Ariel
Acclaimed as one of Kaurismäki`s most accomplished early films, "Ariel" follows the exploits of the laconic Taisto, a newly-unemployed Lapland miner who sets off in a Cadillac convertible for a fresh start in Helsinki. Joined in his odyssey by meter maid Irmeli and her young son, Taitso`s plans take a series of unexpected turns in this dryly comic and satirical melange of road movie and film noir.

The Match Factory Girl
This blackly comic minimalist masterpiece stars Kati Outinen as Iiris, a shy and dowdy young woman stuck in a dead-end job on a match factory production line. She dreams of finding love at the local dancehall, but her attempts are constantly foiled by her selfish parents and the callous behaviour of would-be suitors. Finding herself pregnant after a one-night stand and abandoned by the father, Iiris finally decides the time has come to get even and she begins to plot her revenge.
Special Features:


Video Tracks:
Widescreen Anamorphic 1.78:1

Audio Tracks:
Dolby Digital Stereo 2.0 Finnish

Directed By:
Aki Kaurismäki

Starring:
Esko Nikkari
Elina Salo
Susanna Haavisto
Turo Pajala
Sakari Kuosmanen
Kati Outinen
Matti Pellonpää

Distributor:
Artificial Eye