Review of Trinity Blood: Volume 2
Introduction
I`m often looking to be challenged by what I watch, new ideas, complex storylines, and innovative visions, basically something that I haven`t seen before. That`s no less true when it comes to anime. That doesn`t mean of course that I`m averse to some mental chewing gum, the odd summer blockbuster, something with big frakkin` explosions. That where Gonzo comes in, at least when it comes to anime. They have got the animated equivalent down to a fine art. They can present great concepts and neat little story ideas, dress them up in the finest animated livery, add oodles of action, some stock characters and situations and serve it all up in a neat twenty-minute package. It doesn`t matter if it all looks vaguely familiar, as it is just so much fun to watch. This week I have been playing `spot the influence` with the second volume of futuristic vampire anime Trinity Blood.
Being the self-destructive species that we are, mankind winds up bringing Armageddon down in the form of a global nuclear war. The survivors don`t have much chance to rebuild however, before visitors from above arrive looking to prey on this beaten people. In form and behaviour, they are identical to vampires of legend, and are dubbed as such by the humans upon which they prey. Centuries hence, civilisation has begun to rebuild, and while some technologies remain lost, humanity has regained some of its grandeur, travelling the skies in vast airships, and with the bulk of the political power resting with the Vatican in Rome. There are those among the Vatican hierarchy tasked with battling the vampire menace, namely the `AX` group. Among them is priest Abel Nightroad, who is a Kruznik, a vampire that preys upon vampires.
The second volume of Trinity Blood contains four episodes.
5. Yesterday, Today and Tomorrow
Abel Nightroad brings the nun that he rescued to Rome and the Vatican. While Caterina is debriefing Abel, Esther Blanchett is given the guided tour of AX. She learns that it is the Holy Office that handles the Vatican`s foreign affairs, and AX are assigned the missions that no one else can complete. She meets some of the other members, Vaclav, Noélle Bor, and the group`s technical wizard William Walter Wordsworth. When she has a few minutes to herself, she goes exploring and gets lost in the extensive gardens. She runs into a distraught priest who she winds up comforting. Little does she know who he really is.
6. Sword Dancer
Vampires have been wreaking havoc in Amsterdam, slaughtering the inhabitants of a church. The only survivor is a traumatised nun named Sister Agnes. The Vatican sends a volatile member of AX to investigate. Just as the android Tres is proficient with his guns, Hugue de Watteau can make his sword dance. He`s a problematic choice though, and the Vampire leaders of the North European area are motivated to solve their problems internally. They wish to question Agnes to discover the truth, forcefully if necessary, but to Hugue, a vampire is a vampire, and he`s soon acting beyond the Vatican`s dictates.
7. Never Land
The shipping off Albion is being plagued by vampire attacks, although these vampires are more akin to faeries in appearance. Abel is assigned to investigate this, but he needs help. He visits the prison to enlist the aid of imprisoned AX member Dandeleon in exchange for time off his sentence. The clues lead to a professor of medicine named James Barrie, who since retiring has created an orphanage on an isolated island. But when they get to the island, there is no sign of the professor, and the children are behaving very bizarrely.
8. Silent Noise
The cathedral in Barcelona has been destroyed, and Abel and Noélle Bor are sent to investigate the matter. When it looks like a simple case of old age, Noélle sees it as a golden opportunity to loosen up a little and spend a little quality time. Their sightseeing tour of Barcelona is interrupted when some peculiarities turn up regarding the land on which the Cathedral once stood. Following the paper trail leads to a conspiracy with the Rozen Kreuz Orden and James Barrie at the heart.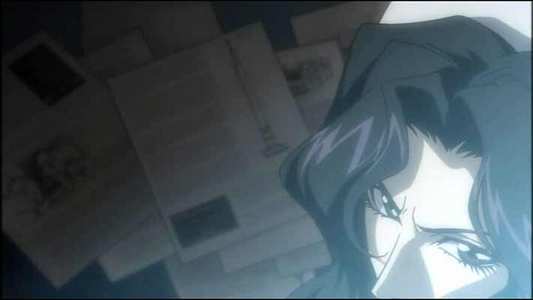 Video
Studio Gonzo practically guarantees eye candy and visual splendour, and that is just what you get with this new series. The 1.78:1 anamorphic transfer is all present and correct, it`s clear and sharp for the most part, and brings across the splendid set and character designs with ideal clarity. Like all modern anime, Trinity Blood proves to be a dynamic blending of traditional 2D and 3D CGI animation. The problem of compression artefacts around fast motion in the previous volume wasn`t as apparent this time around, although it is still there. There is still a brief pause in playback at the end of the multi-angle credit sequences on my player.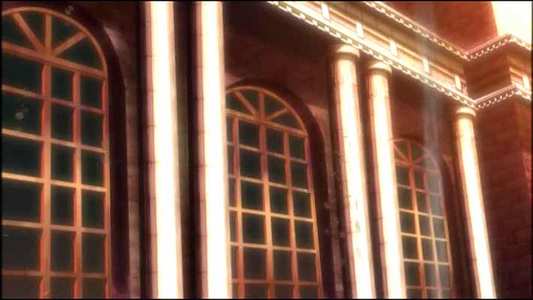 Audio
As usual for an anime disc, you get a choice of DD 2.0 Japanese and DD 5.1 English, with optional translated subtitles as well as a signs track. If you want the surrounds to give you the best action experience, then English will be the way to go, but as usual, I opted for the original Japanese track. The dialogue is clear and the theme songs are nice and catchy.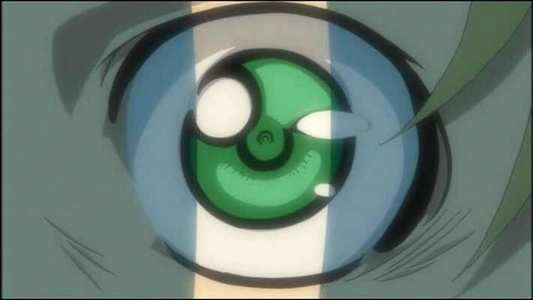 Features
The episodes on this disc come with multi-angle credit sequences, and you`ll also find the usual jacket picture and animated menus. Textless credit sequences as well as trailers for Basilisk and GunXSword round off the bare minimum for an anime disc.
Incidentally, even if you are a dub purist, it`s worth switching to the sub, or just changing the angles on your remote to get a look at the original Japanese opening titles. Beautifully rendered with an English text in wavering blood tones echoing the white kanji, it certainly is innovative.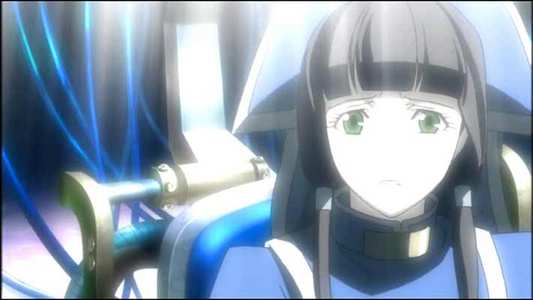 Conclusion
The second volume of Trinity Blood continues in the vein of the first (pun intended). There`s plenty of Gonzo eye candy to savour here, and the four stand-alone episodes continue to build the future world, and introduce more of the characters. But once again, like the first disc, this volume is more about promise than delivery. We`re still at the stage of setting up the story, and as such it`s hard to tell just what direction we will end up going in. I originally praised the show for a degree of intelligence in its writing. Not so much this time around, as these episodes are an eclectic bunch, with Trinity Blood simply throwing ideas at the screen willy-nilly. Fortunately, more end up sticking than not.
The first episode offers a guided tour of the future Vatican to newcomer Esther, and we get to tag along for the ride. Gonzo call on the spirit of Kiddy Grade for this episode, revealing the Holy Office to be akin to the GOTT in that series, a group overseeing the foreign affairs of the Vatican. And just as ES was GOTT`s secret police, so AX is the velvet fist of the future papacy. We have a taciturn head that has a past history with the main character, dictating just what the AX`s missions should be. The various members of the AX have their own special abilities, whether it is empathy, vampirism, swordplay or guns. AX has its problems with rogue agents too, as we see in Sword Dancer, when one of its members over reacts to a vampire attack in Amsterdam. We meet a moody antihero of an agent, a Clint Eastwood with a sword, and by the end of the episode we`re certain that we`ll be seeing him again.
What do you get when you cross the Nazi policy of Eugenics with Peter Pan? You get Never Land, a deliciously warped vision of the classic children`s tale that is impudent to say the least. James Barrie is a Professor of medicine who finds orphans to be ideal experimental subjects. He wants to create a race of artificial vampires that bear a striking resemblance to fairies. But his research isn`t perfect, and doesn`t work on all. Peter is a small boy who despite the treatment remained firmly human and earthbound. Yet he is determined to protect Wendy, the ringleader of the vampires. Don`t even ask about Tinkerbell!
Silent Noise takes us back dangerously close to something resembling a storyline, with Abel meeting his match when he investigates the destruction of a cathedral. A vampire is using James Barrie`s research to create a weapon of mass destruction, and Abel is powerless to stop it. What is interesting is that while he is unaware of his foe, it becomes apparent that this hidden foe is fully aware of who Abel is, and it`s certain that this story won`t end in just one episode.
Once again, there is the disclaimer that if your religious sensibilities are easily offended, then this future vision of the church will be one to avoid. Form fitting nuns` habits, nuns getting all gooey-eyed at hunky priests, it`s madness I tell you, madness. Better to go and find a nice history book about the Borgias instead.
The episodes in this volume of Trinity Blood are all over the place. If I didn`t know any better, I`d be certain that they were just making it all up as they went along. But despite the stories` random nature, Gonzo do know action entertainment like the back of their hand. If you just want to stick an anime in and have a good time, then Trinity Blood ticks all the essential boxes. Hopefully it won`t leave it too late before getting down to a story.