Review of Gantz: The Complete Series
Introduction
There`s something intrinsically interesting about the common movie narrative set-up of a group of strangers brought together in the face of an atypical, abnormal situation, and watching the destruction of the group through in-fighting and idiosyncratic behaviour. George A. Romero perfected it with the first of his `Dead` tetralogy, `Night of the Living Dead` in 1968, and the formula has gone on to be used to great effect in many a picture since. Studio Gonzo`s `Gantz`, adhering to the convention of forcing the individuals to work together against personal odds, actually has visibly more in common with the influenced than the influencers, particularly 1997`s `Cube`, and in high concept terms would be perfectly described as Vincenzo Natali`s low-budget sci-fi thriller crossed with Dave Starsky`s 1987 version of `The Running Man` and a healthy dose of the utterly peculiar.
After two high school students are killed by a subway train while trying to rescue a tramp who fell onto the tracks, they find themselves in an apartment with a group of strangers, an over-friendly pooch and a strange black sphere. The mysterious black ball call itself Gantz, and in no uncertain terms tells them their lives belong to it now. It then forces them into playing a game of sorts, tasking them with hunting down criminal aliens who have sought refuge on Earth. Like the aliens, the participants exist out of phase with reality when the game commences, going unnoticed by the rest of the world, and it seems the only way out of Gantz`s game is to play it. But is there really a way out at all, and why do some of the participants seem to know more about the game than others?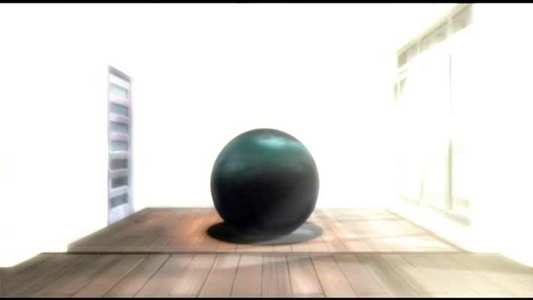 Video
Anamorphic 1.78:1, and although a little soft through conversion from the NTSC source, it`s a good quality transfer. The colour palette isn`t exactly vibrant, but instances of digital flaws are few and far between, and only the credit sections suffer from a noticeable drop in video quality. The animation is a little stagnant, with some stilted movement and emphasis on stationary surroundings, and because of this, the CGI sections don`t blend with the traditional animation as well as in other anime.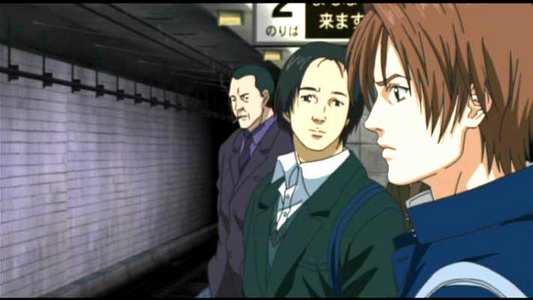 Audio
Native Japanese in Dolby Digital 2.0, or the English dub in Dolby Digital 5.1. It has to be said that while the full sounding 5.1 is pretty decent, the dub just doesn`t sound right. It`s over-forced, and some of the juvenile scripting that gets by on subtitles is simply cringeworthy when it`s being pounded out by American actors with scant changes. There also seems to be an abundance of swearies absent from the original script. The Japanese track is definitely the choice here, and while solid with good separation, it`s just a shame that the only option is stereo.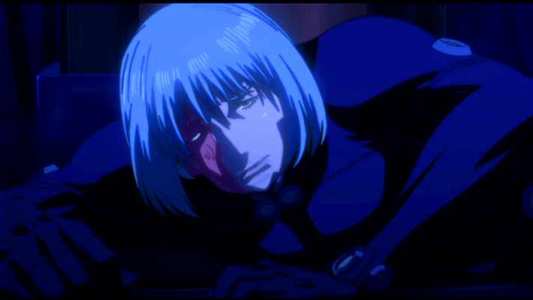 Features
Little here we`re not used to with anime releases - a series of diverting interviews with the cast and creators spread across various discs, clean credits and promo materials like trailers and TV spots spread across the seven discs. The only noteworthy feature here is a `Cast Talk` on the second disc, which sees the three main Japanese voice actors sit down for a Q&A-type session that seems to crop up on DVDs frequently. Like most of them, it`s a mixture of giggle fits and back-slapping combined with opinions on recording the voices in post and the characters they play.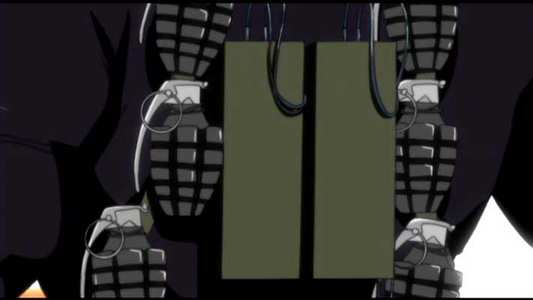 Conclusion
`Gantz` is odd. Really odd. Getting drunk, hitting your head and falling asleep and dreaming weird dreams odd - particularly the first few episodes. Its mixture of intriguing mystery with regards to Gantz, why they`re there and - considering they`re supposed to be dead - what they actually are, the sheer absurdity of the interaction between characters, not to mention the bizarre aliens which seem completely out of tone with the rest of the show, means `Gantz` is one of the most quizzical anime shows of recent years. Not necessarily a good thing, one can`t help but issue the caveat that `Gantz` is definitely an acquired taste, and makes more misfires in its run than it does deadly accurate shots. Its clearly full of ideas and manages to play the plot`s mysteries reasonably well, but its pacing is completely to pot and its scripting, particularly dialogue, is verging on the ridiculous.
Despite such highly charged and dangerous situations as presented in the episodes, there`s so much procrastinating, dilly-dallying and needless yapping as to make the tempo chug like a colonial steam train on jellified tracks, partly due it must be said to the rights of the original manga being bought too early, while it was still in its infancy, leaving `Gantz` the anime to over-extend the plots and play for time while `Gantz` the manga caught up. Its overly talky nature isn`t helped by possibly the most annoying anime protagonist ever in the jealous, pervy teen Kei Kurono, a fairly dim cast in general and several dips to puerile levels of immaturity. Yet on the flipside, its splatterpunk approach to violence is fantastically over the top and comic-booky (presented here uncensored), and it hits its stride in terms of narrative when, during breaks from the game, the characters are allowed back into the real world, and the situations they face in the game allow them to confront their real-life problems.
But inevitably, the plot takes us back into the game where too little seems to happen quickly enough, and an entire disc can be dedicated to, essentially, 30-minutes worth of plot stretched out beyond its means. For such an over-the-top series from Gonzo which was not only hyped and censored in equal measure over its sex and violence content, but which clearly prides itself on pushing the envelope, it`s disappointing and a little strange that the way it introduces characters and its nature of building an ensemble by gently introducing them prior to kicking the bucket and the way it plays with the audience`s expectations of convention ("Is it a TV show?", "Yep, we`re dead!") is so vastly superior to the, frankly, dull game segments which take up far too much screen time considering they`re so light on action and interest. `Gantz` is certainly very enjoyable in parts and oddly compelling, make no mistake of that; it just isn`t all it was supposed to be. So much for hype, eh?