Snake and Crane Arts of Shaolin (UK)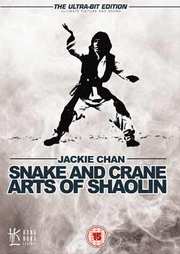 Old school Jackie Chan
Certificate: 18
Running Time: 97 mins
Retail Price: £16.99
Release Date:
Content Type: Movie
Synopsis:
Since bursting onto the martial arts film scene in 1973, Jackie Chan has become one of the world`s most popular stars. His movies - in which he acts, performs his own stunts for and often directs - have earned millions at the box office.

In "Snake and Crane Arts of Shaolin," he plays Hsu Yin Fung, a young warrior falsely accused of killing the Shaolin Masters after they developed a new martial arts technique called "Snake and Crane" at Hua Mountain.

After Hsu`s fellow warriors ostracize him, he tries to clear his name. To do this, he receives aid from two women who are in love with him. After one of the brave ladies is killed and the other warriors realize that Hsu wasn`t responsible for the murders, they join him for a trip to the Shaolin Temple to find Master Tse Kung. And it`s there that they find the real killer. In the film`s thrilling climax, Hsu, having secretly mastered the deadly martial arts style of "Snake and Crane," faces the murderer one-on-one.
Special Features:


Video Tracks:
Widescreen Anamorphic 2.35:1

Audio Tracks:
Dolby Digital 5.1 English
Dolby Digital 5.1 Mandarin
Dolby Digital Mono Mandarin

Subtitle Tracks:
English

Directed By:
Chi-Hwa Chen

Starring:
Nora Miao
Tu Mao
Kong Kim
Her Du Wei
Jackie Chan

Music From:
Chow Fook Leung

Production Designer:
Shih Mei Chu

Producer:
Li Hwa Hsu

Executive Producer:
Wei Lo

Distributor:
Hong Kong Legends